Chaofah Weekly
6 years ago
Weekly Update #1, 25 August 2017
Welcome Back to School!
A warm welcome to all of the new families who have joined the HeadStart community as well as to the families who have been with us last year and in some cases, since our beginning. With over two weeks of preparations, our academic team are now ready to start a new year of productive teaching, learning and continuing to build on last year's progress and successes.
Over the next few weeks, we will be getting to know you and your children better. With time, the students will forge new friendships and routines which will help them feel secure and focused on their goals.
With the implementation of new educational programmes and 24 additional professional teachers and support staff, it is our goal to have the most productive and successful year to date.
---
Academic Excellence Celebration
Congratulations to our IGCSE, AS and A Level students for their fantastic end of year exam outcomes. Secondary management's aspirational exam target outcome was for 90% of our students to achieve A/C grades and 30% of our students to achieve A/A grades. We could not have hoped for a better outcome! 88% of our students achieved A/C grades and 39% of our students achieved A/A grades. 87% of students achieved five or more A/C grades. Nine of our students achieved more than five A/A grades and two of our students achieved eight A* grades.
Congratulations to all of the students for achieving above expectations!
A special mention goes to:
Marco de la Rosa (Year 11) who gained 12 IGCSEs, each one at least at a B grade.

Bomnuri Kim (Lisa, Year 11) and Nattanicha Chaloemtoem (Natasha, Year 11) scored A* or A in every subject.
Welcome New Staff
We welcome new staff from around the world. Our new staff are all fully qualified professionals, bringing further expertise and experience into all of the departments. If you would like to contact your child's Homeroom or Subject teacher, you can find their profile and contact information on the website http://headstartphuket.com/staff.
---
Dates for Your Diary
Upcoming events can be found on the HeadStart calendar on the website School Life → Calendar but we have outlined upcoming events here for easy reference.
| Date | Time | Event | Location |
| --- | --- | --- | --- |
| 28 August | 8:10 | Flag Raising | Football Pitch |
| 29 August | 8:15 | Thai Parents Meeting | 6th Form Room |
| 31 August | 8:15 | Parent Portal/Online ASP Sign Up Tutorial | Sports Hall |
| 31-01 September | 2:15-3:30 | Fee Paying ASP Programmes Expo | Atrium |
| 28-01 September | 3:30-4:30 | Academy try-out days | Swimming Pool/Football Pitch |
| 02-05 September | TBA | Online Open Booking Period for ASPs | Home |
| 04 September |   | Academy programmes begin | Swimming Pool/Football Pitch |
| 09 September | All Day | Receive ASP Enrolment Confirmation | Home |
| 11 September |   | ASPs begin | See chart for location |
New School Day Schedule for Foundation
Foundation gates are open between 7.45 – 8.30am. Registration is from 8.00 – 8.30am. Learning starts at 8.00am. To avoid your child missing out on lessons, please ensure you are in school by 8.00am. The school day ends at 2.20pm. To avoid your child becoming upset, please be on time to collect your child.
---
New School Day Schedule for Primary
A bell will ring at 7.55am at which time all the children should make their way to their classrooms. The school day starts at 8.00am. Your child must be in class by 8.00am otherwise they will be marked as late. The school day ends at 3.20pm.
---
New School Day Schedule for Secondary
Homeroom Time 8.00am - 8.10am First Break 9.10am - 09.30am Lunch 11.30am -12.10pm Second Break 14.10pm -14.20pm End of Day 15.20pm
---
Important Notice Regarding Security Access Cards
Parents, guardians, staff and students have all been issued a School Pass to enter and exit the school campus. Adults will not be allowed into the school unless they have the School Pass or have registered their finger prints to access the security system. Students who do not have a pass will be allowed into school in the morning however they will not be allowed to leave in the afternoon without their pass.
Our security team is under strict instruction not to allow adults into the school unless they have the appropriate school pass. Parents and guardians wishing to enter the school without the school pass will need to follow the school's Guest Admission Procedure.
Please help to keep your children safe by following our security guidelines.
---
Food Menu
The new menu is now available on the website http://headstartphuket.com/school-life/menu. If you have comments, suggestions or would like more information regarding food services at the school, please contact the Food Service Committee by writing to either Chef Pornthep at [email protected] or to Ms Anisa van der Laan at [email protected].
---
After School Programmes (ASPs)
Please take a look at the Dates for Your Diary section of this update for a quick glance over the upcoming events in regards to the After School Programmes. A more detailed email will go out to parents next week detailing all of the things you need to know in regards to sign ups, additional programmes, etc.
---
Car Park Reminders
As an important reminder for the coming academic year, please be considerate of other commuters in the car park.
Make an arrangement with your Secondary or responsible Primary child to be at a certain place and time in order to facilitate a quick pick up and drive through.

Encourage your child to be ready to hop out or in the car as quickly as possible to avoid a wait for the cars behind you.

Do not leave your engine running. The fumes emitted from the vehicles are not good for our health, cause noise pollution and generate heat in the parking lot.
---
Welcome Message from Thai Team
We would like to express a warm welcome to all new and returning parents for the 2017-2018 academic year. We are confident that this year will be full of variety, joy and challenge both in teaching and learning activities.
We have appointed 3 new staff members to strengthen our team. Kru Tarnya, our new Head of Thai, Kru Tae who teaches Early Years – Year 1 in the Thai First Language Programme and Kru Way, who teaches Year 1-2 students in the Thai First Language as well. All new Thai teachers are highly qualified with years of experience. We are confident that they will be a great support this year.
Should you have any comments, suggestions or inquiries regarding our Thai language and culture programmes, please contact our School Director Mrs. Sontana Baci (Kru Nee) at [email protected] or Ms. Sasiwimon Khongmueang (Kru Tarnya), our Head of Thai at [email protected]
We look forward to working with you all.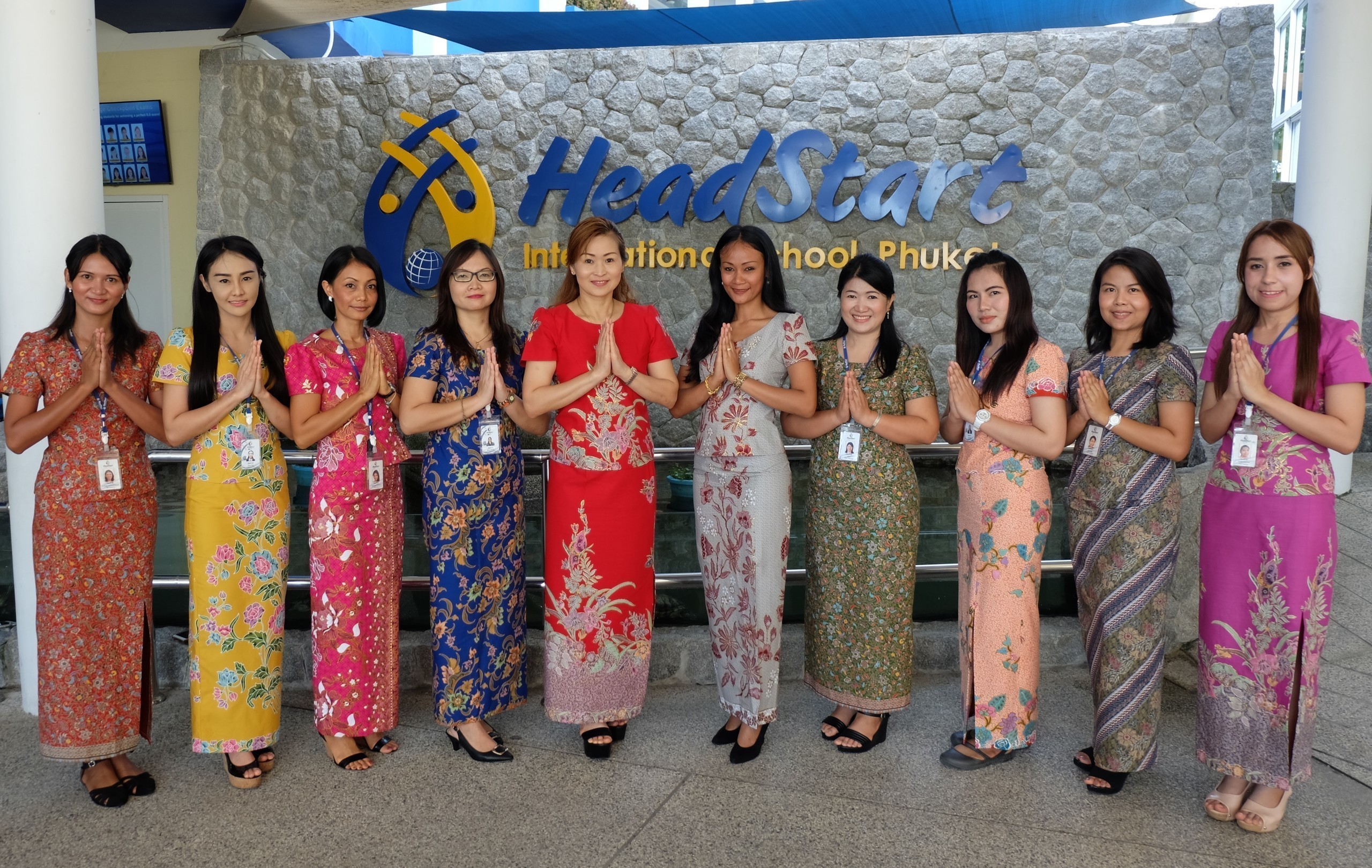 Thai Parents Meeting Schedule Term 1
We would like to invite Thai parents to our first meeting of the year on Tuesday, 29 August at 8:15 - 9:15 in the Secondary Hall. We will give a presentation about our After School Programmes policy, sign up fair and pick up policy for parents. The meeting will be presented in Thai.
---
House News
By Nick Carter, House Coordinator
If you remember, we had our end of year activity day, on the last day of school, and those points have already been logged. So, the competition has already begun! There are some fantastic changes for you to all be aware of this year. Firstly, from now on there will be TWO prizes up for grabs. One at the end of term 1, and another at the end of term 3. Also, there is going to be much more Primary involvement this year; including lots of lunchtime fun activities. So, watch this space!
---
Primary News
Year 4 First Week of School
Students in Year 4 played '2 Truths and a Dare', made 'All About Me' kites and learned some interesting facts about the human body. Ms Katherine Dickie
Secondary Department News
By Ms Elizabeth Mason, Head of Secondary
Welcome back parents and students!
This is my third week back at school but the students first week. It is certainly lovely to have them back. The school is rather empty and sad without them. It has been good to hear about all the wonderful places that students have travelled to over the summer.
I was absolutely thrilled to receive news on the secondary school's best results ever in the history of Headstart for IGCSE's and performing above the world average in all areas of the check point examinations. Well done to teachers students and parents for all of their hard work. I would also like to thank Mr. Barker, Deputy Head of Secondary, who has supported me fully in this journey to excellence. Under my leadership I hope to improve results even further and continue to build an exciting and varied curriculum.
This year there will be continued focus on the key areas of on accelerating learning at KS3 through the active learning mornings and also to ensure the standard reached by our 6th form students are competitive in the current global market. Ms Lucass, the head of the 6th form, will be contacting parents shortly regarding lunch and break time signing out slips for your child. She will be tracking all 6th form students' progress and we will expect an internal settling in report on each student to see how their 6th form courses (AS/A levels) are progressing .
The first parents meeting this year is marked on the calendar on the topic of 'Year 7 settling in' on 11 October.
I would like to wish them all the best in their secondary education. Together we can reach for the stars and beyond!