Chaofah Weekly
7 years ago
Weekly Update 38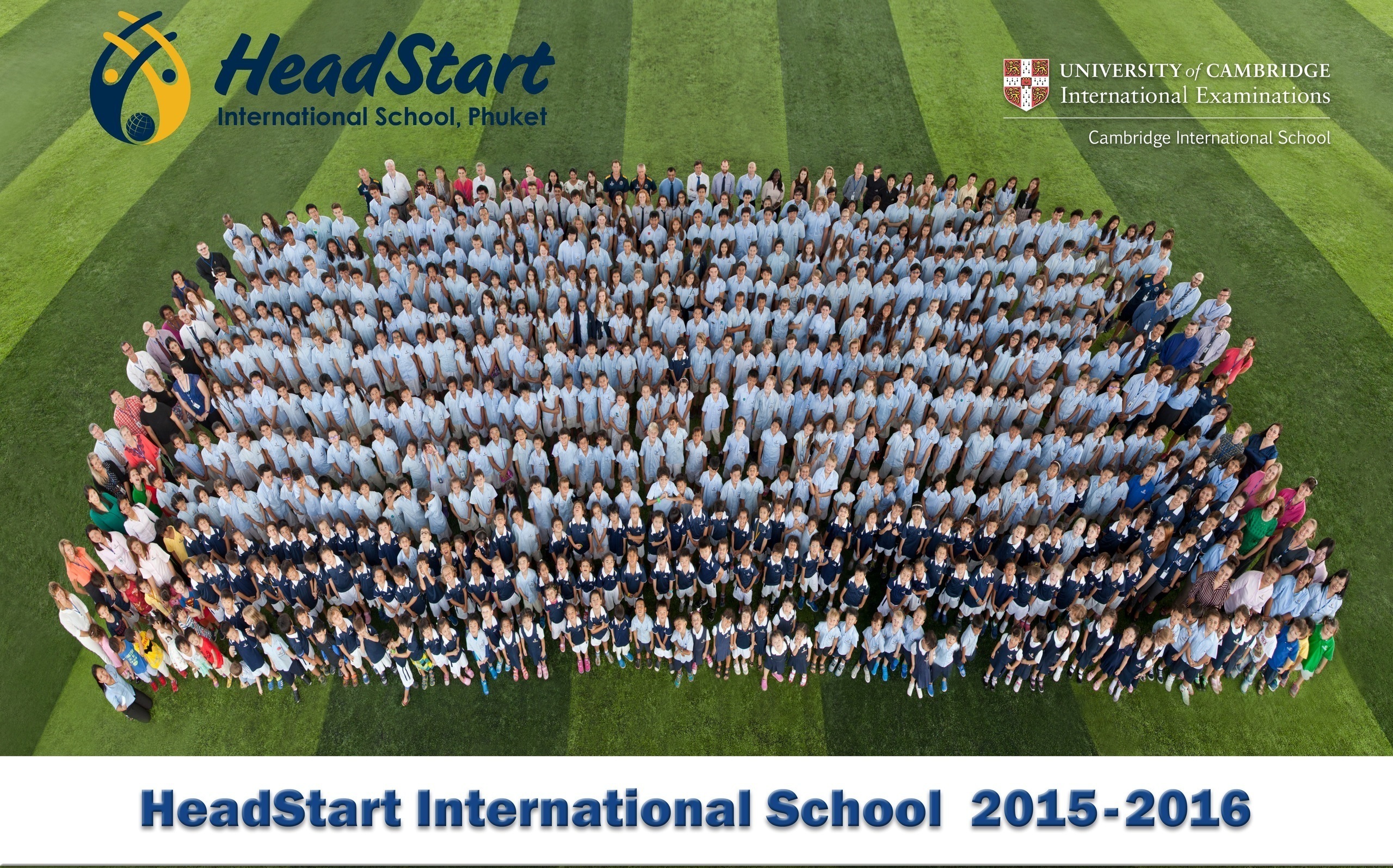 HeadStart teachers and Staff wish the students and parents a wonderful, well deserved summer holiday!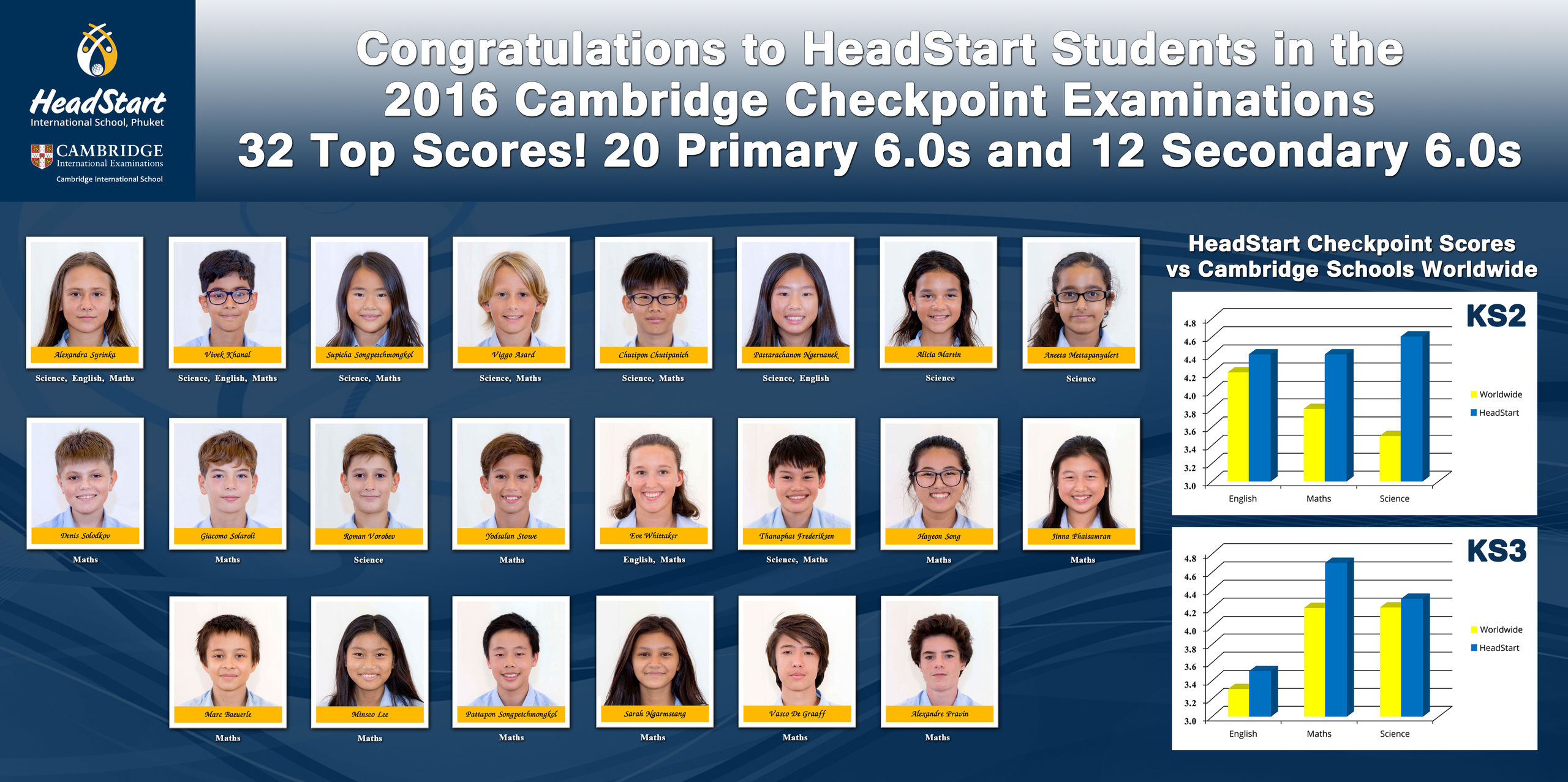 Checkpoint Exam Results
By Mr Adam Drew, Director of Studies
After last Year's superb results in the Cambridge Checkpoint exam, I was naturally nervous as to whether this year's group of students would be able to reach the same levels. I am pleased to report that not only did our group of Year 6 and 9's reach the same high standard, but they actually managed to surpass them. For the fourth year running, we have improved on last year's result.
The results have been amazing both individually and collectively. Individually 22 students shared 32 top scores of 6.0. With two students in Primary gaining a 6.0 in all three subjects (English, maths and Science). Collectively, all three subjects in both Primary and Secondary improved and every subject at HeadStart now performs better than the Cambridge average for all schools worldwide.
These results are truly impressive and the students should be very proud of all they have achieved. I know they worked very hard all year and in the lead up to these exams. They are now reaping the rewards of this hard work.
I hope you will join me in congratulating the students on these successes and wish them well as the year 6's make the transition from Primary to Secondary and our Year 9's move into the serious business of the Cambridge IGCSEs.
Well done to everyone in Year 6 and Year 9!
World Scholars Results
By Mr Adam Drew, Director of Studies
In the last week of term, 12 students from HeadStart took part in the World Scholars Cup (WSC) Global Round. The scholars qualified for the tournament in March, taking part in the Regional Round, where all of our teams scored enough points to secure their place for the five day competition in Bangkok.
Throughout the week, they competed against 3,400 of the most gifted and talented scholars, from 50 different countries in events such as Team Debate, Collaborative Writing, and the Scholar's Challenge and Bowl, where they were tested in six different subject areas which comprise the WSC Syllabus, based around this year's theme 'An Imperfect World'.
Our 4 teams of 3 students, achieved numerous awards in the various discipline, including Marco who collected a total of 10 medals, and was placed in the top 7.5% of the Junior Division, which comprised 1,800 students. Albert in the Senior Section received 6 Medals and was placed in the top 200 students out of 1,600! Other notable individual successes include Denalyn, Eve and Liza winning silver medals in the Collaborative Writing section and Jean coming 48th in the 'DaVinci Scholars' section, winning a gold medal for all round excellent achievement. Elliot was placed in the top 20% for Writing and Albert was in the top 10%.
As teams, our Juniors performed exceptionally well, being placed in the top 15% of all teams for their knowledge in the Scholar's Challenge with our Senior team in the top 15% for Collaborative Writing. Of our 4 teams, we have 2 that have now qualified for the Tournament of Champions which will be held at Yale University in the United States in November. This is no small achievement as only around 150 teams from each section qualified and in excess of 1,100 teams took part in this competition!
We are truly proud of the achievements of all of our scholars, they had an amazing time over the course of the 6 days we were in Bangkok, acted as superb ambassadors for our school and community and those who qualified, are raring to go to the Tournament of Champions at Yale.
Please join me in congratulating them on this fantastic achievement.
Good Bye to the Secondary students From Ms Rebecca Nicol
I wholeheartedly regret to confirm that I am leaving, and the thought of this does indeed bring a tear to my eye. It truly upsets me knowing I won't be starting my day seeing all your bright and beautiful smiley faces, or hearing those loud discussions in Thai and Russian that I always used to scold you for throughout the day!
I feel very privileged to have been part of your lives for the past 3 years and have thoroughly enjoyed watching you all grow and develop into respectable young adults. (Even if that means embarrassing myself on stage, acting as Snow White in last year's production, or enduring a horrific storm on Koh Bon with the Duke of Edinburgh students!) In my opinion, what makes Headstart so special is how kind, thoughtful and accepting you all are, even to your teachers! You should all be very proud of yourselves and know you will be greatly missed by myself and all of your other teachers who are leaving.
I hope that you will continue your learning journey, no matter where your lives may take you. I believe that the more knowledge we acquire, the better we become until we can one day reach our full potential! NEVER stop learning and growing. Think, explore, challenge yourself and be the best person you can be! Thank you students from the bottom of my heart and best of luck for your life ahead!
Goodbye Teachers!
HeadStart is sad to see these fantastic teachers leave. We wish them the best of luck on the next leg of their journey.
Final Day of School–Activity Day!
Year 6 Graduation Trip
By Mr Danny Redley
This week a group of extremely excited Year 6 students and teachers went on a residential visit to Bor Saen Villas. This trip was filled with fun and laughter as we participated in a variety of activities which included, team building activities, fishing, pedal boating and mountain biking to name but a few. We were also blown away with the accommodation that we stayed in and felt like Kings and Queens with our own private pool!! This trip was enjoyed by all an I am sure that great memories were created.
Year 9 Science Projects
Well done to the year 9 students who have been working hard on their science projects. On Monday they presented their work to some year 7 and 8 students and to all of year 9. The top 3 projects voted for by the stuents were Bath Bombs by Naomi and Pee, Elephant Toothpaste by Peter & Simone and first place went to the Water Filter project by Jean, Hayeon & Serena.
Excellent achievement, congratulations. By Ms Ely
Inter House Soft Tennis Grand Slam!
Years 7 & 8 and Years 9 & 10 recently combined year groups to compete in the Inter House Mixed Doubles Soft Tennis Grand Slam at HeadStarts centre court; the sports hall. Both events were well attended, as three boys and three girls from each house dueced it out in order to try and net the win. After the rain delay, the games began and it was apparent that no team had a clear advantage over the others. In fact, no one was going to let the other teams have an easy game-set-and-match so they all rallied together to produce some volley good shots. Each of the games were a real back-and-forth event until we found our champions, the Yellow House, who were served the inaugural HeadStart soft tennis trophy by head umpire, Mr Beanland.
The PE department would like to say wimbledon to everyone who participated, umpired, and came out to watch!
Results for Year 7 & 8
1st = Yellow 2nd = Blue 3rd = Red 4th = Green
Results for Year 9 & 10
1st = Yellow House 2nd = Red and Blue House 3rd = Green House
Year 5-6 Inter House Gymnastics Competition
The PE department recently held the first ever primary inter house competition for Year 5 and 6. In fact, it proved to be such a gym-tastic event that it will hopefully roll into next years programme of activities too. The competitors were overlooked by four judges, including Mr Whittaker, who was head-over-heels with how well the students managed to hold their poise and composure. Everyone clearly enjoyed their presentations and it was fantastic to see the students creating their own work. After a close contest, and much deliberating by the judges, Year 5 Blue house and Year 6 Green house tumbled out as the worthy winners. Well done to everyone involved!
Results for Year 5
1st = Blue House 2nd = Green House 3rd = Red House Team 2 4th = Red House 1 and Yellow House
Results for Year 6
1st = Green House 2nd = Red House 3rd = Yellow House 4th = Blue House
Beach Clean up with Sunsuri Phuket
Through the Rawai Naiharn Business Community www.rawainaiharn.com which was founded in 2010, we are organizing a major beach cleaning event on Nai Harn beach on Sunday 24 July.
We will have DJ tank as an MC in Thai and English with great music and we will have a mass aerobic session on the beach after the cleaning and more. We are inviting all businesses and residents of the Rawai Nai Harn area to come and join. We are aiming at making this the biggest beach cleaning in Phuket ever and anyone who likes a clean beach and in particular Nai Harn Beach, is welcome to join. All equipment that is needed will be provided. We just need people in a good mood who want to join a fun afternoon. Thank you in advance for your support.