Chaofah Weekly
7 years ago
Weekly Update 4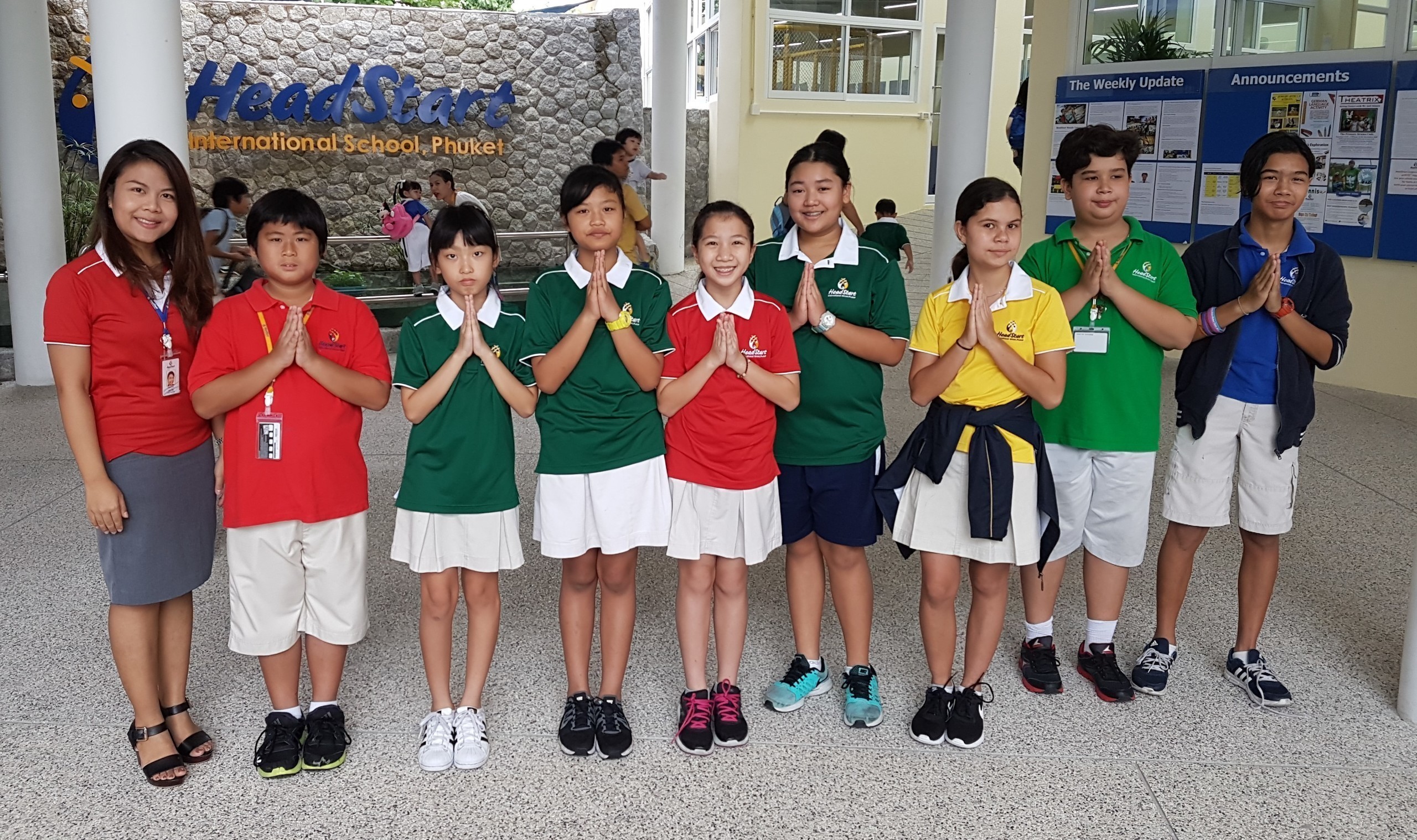 Announcements
House Shirts
You will be pleased to know that we have upgraded the quality and make of the House shirts. Although it is not compulsory to purchase the new shirts we recommend the new make due to the dry fit, cool and comfortable fabric.
Thai Parents Meeting
A big thank you to Ms Danielle, Ms Amy and Ms Nicola who gave a presentation this week on how to support your child with reading and spelling. A document that supports this meeting ('A parent's guide to reading') will follow next week. Some parents have been asking about a meeting on how to use our online reading program, Bug Club. I am pleased to inform you that the Bug Club meeting will be next week, Tuesday 20th September at 8.00 am in the Secondary Hall. Parents from Reception and Key Stage 1 are warmly invited to join us for this support meeting.
House News–by Erika Cramp
This week the House totals have continued to surprise. The House Quiz was won by the Blue House with Red and Green tied in 2nd and the Yellow House coming in 3rd. In 'Weigh your Waste' the tables were turned with the Yellow House taking 1st place, Red coming 2nd, Green 3rd and Blue in 4th place.
Year 8 played each other in football at lunch on Friday and the event came to a nail biting finish. This time the Blue House were victorious with Yellow in 2nd, Green in 3rd and Red in 4th place.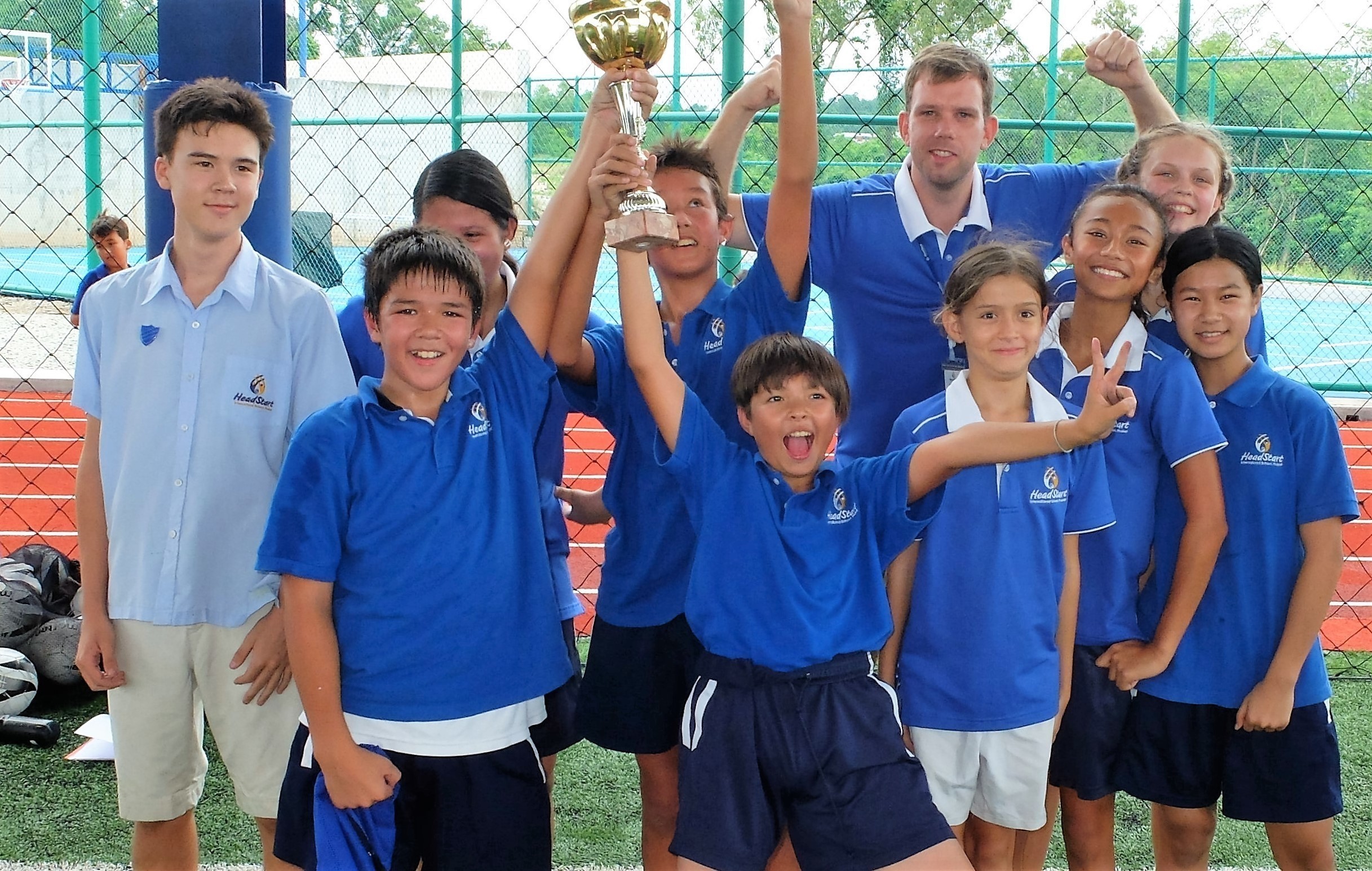 House totals so far:
1st Yellow 67 points/ 2nd Red 60 points/ 3rd Blue 52 points/ 4th Green 48 points.
Foundation Weekly Update–by Mrs Fiona Scott
It has been wonderful to see so many children arriving before 8.15 am, with smiles on their faces and ready for the busy day ahead. Well done everyone.
We are now half way through our first term and the Foundation children have been enjoying a range of topics and learning activities. We now have display tables set up outside the classrooms to share with parents what learning has been taking place and it is super to see so many children happily showing their parents what they have been learning about in their homerooms. This week I have seen a number of Mums and Dads, as well as children enjoying taking a closer look at the insects on our mini beasts tables and the children have certainly had fun bringing in some interesting creepy crawlies from home. Please can you remind all children to handle the insects with care and to wash hands after looking through the display tables.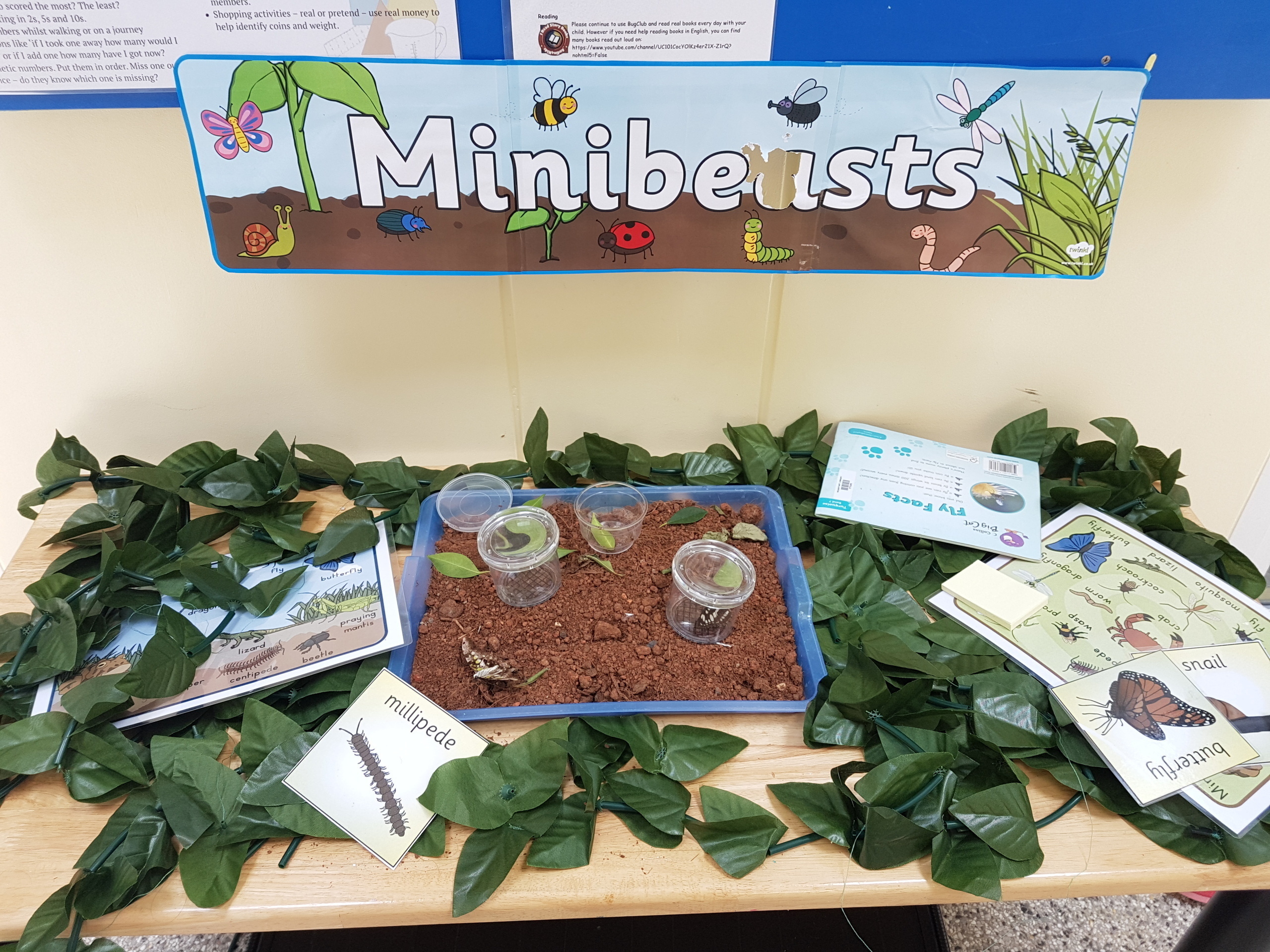 Donations of Pots / Pans / Old CDs
We are still collecting in any old or unused kitchen utensils for using in the classrooms. if you have any pots, pans, sieves, spoons, trays etc that you no longer use, please drop them into our black bin in the Foundation corridor. All junk items greatly received.
Suggestion Boxes
By next week we will have our parent suggestion boxes set up in the corridor. The idea behind the suggestion box is that we gain a little more information about your child, about their likes and interests and some of the things they may enjoy doing at home. This information is invaluable to the classroom teacher. It will promote talking and listening activities and will also help us to provide even more fun projects in the classroom and allow children to engage in a learning environment which has been generated from their own interests. Suggestions can be written in Thai or English and can be anything from losing a tooth, to riding a bike, watching a movie or a favourite toy.
There will be one box set up in between Pre - School and Early Years and another box outside Reception. We look forward to hearing from all parents next week.
Party Friday
A reminder that on Friday 30th September at 8.20 am, each class will host a party morning for all children who have celebrated their birthdays this month. Parents are free to share ideas with other party parents and organise who will bring in different snacks or cakes. Please be aware that some of our students do have food allergies, so please make sure you consult with the Homeroom Teacher for any inappropriate snacks or foods.
Parents are reminded that they will need to organise the food, any games, or prizes; while the school will provide the reusable plates and cutlery. All parents are welcome to join in the party fun from 8.20 -9.40 am. Please do not hesitate to ask the homeroom teacher or myself (MS Fiona Scott) if you have any questions or queries regarding Party Friday.
Preschool Learning
Our Preschool class have also had fun showing Mums and Dads how to brush their teeth with our giant size toothbrush and set of teeth which are placed outside Ms. Lisa's classroom. A big thank you to all the teachers for bringing our classroom learning alive and a big thank you to all the parents who have spent a little extra time this week listening and sharing the learning with their children.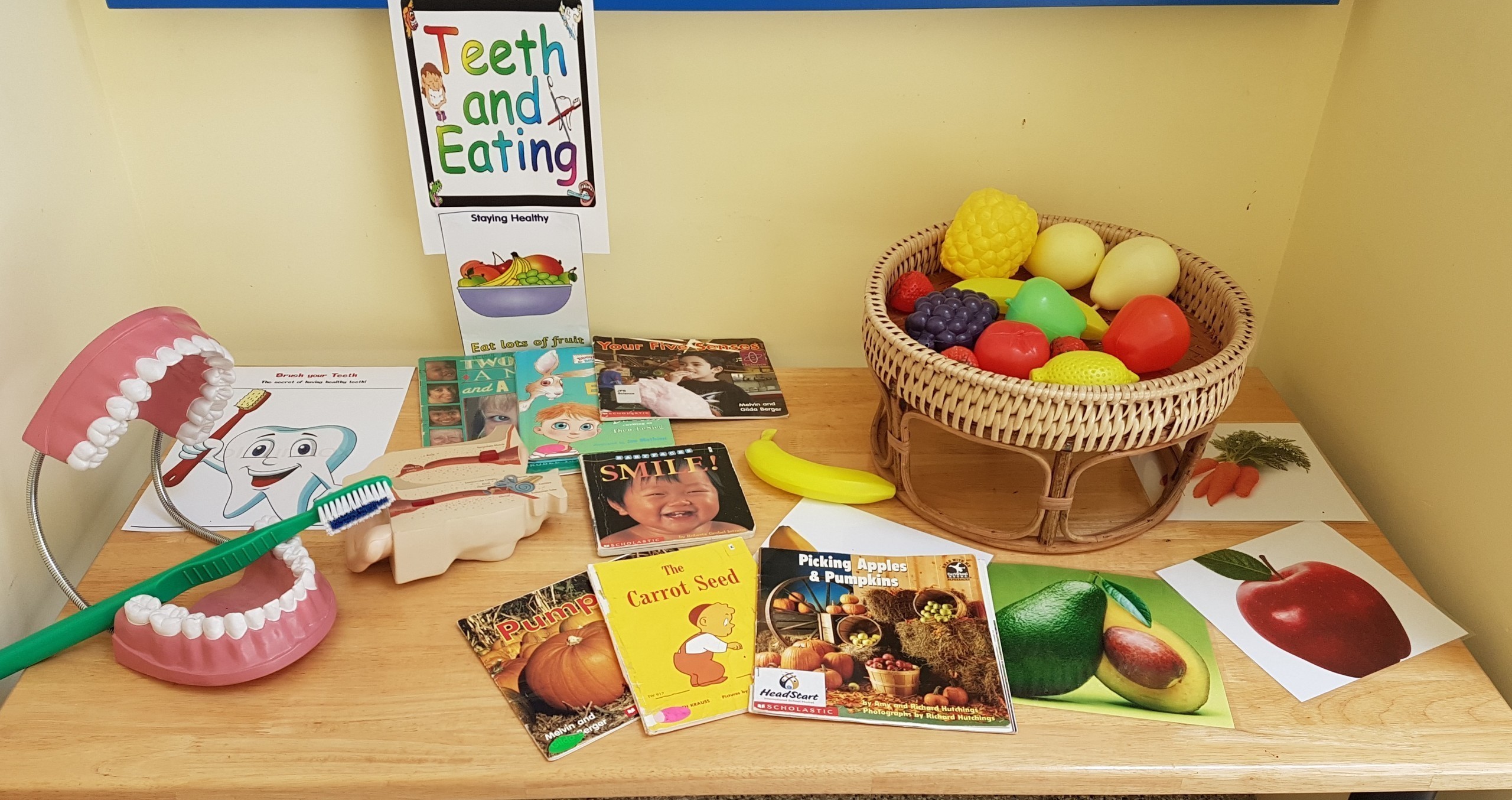 Year 5 Science by Stephen Brady
Year 5 Yellow carried out scientific investigations of opaque, transparent and translucent objects. They are investigating the properties of light and shadows.
As a part of their work on light and shadows, the children in 5 Yellow have also been measuring their shadows at different times of the day to see the effect the position of the sun has.
Secondary Weekly Update–by Mrs Elizabeth Mason
Another busy and productive week here in secondary. It was lovely to see so many parents with their children attending our year 7 settling in parents evening that took place on the 14th September. Parents were able to ask staff questions regarding curriculum content and also the general progress of their child thus far. We estimated an 80% attendance rate so thank you for your support. Parent's evenings are a vital part of home school communication and I would always recommend parents attend to show support for their child's learning and to be clear on the next steps needed for their child's improvement. Throughout the evening it became apparent that year 7 parents are very much supporting their children's learning journey and one thing that was repeated throughout the evening was that parents are insisting their children read every night , which for me is wonderful news. As we all know reading is the foundation to success in all subjects.
E Safety
I was recently reading an article in an English educational magazine called " The Teacher". It drew my attention to the importance of E-Safety at home. My questions to parents is do you know what your child is looking at on-line? Do you know who they are communicating with and the content of that communication? Sometimes we forget that when children are exposed to unsuitable online content it can do serious emotional damage. Here at Headstart we promote E-safety and cover E-safety units in ICT curriculum. Please support us with this at home. At school in the morning I always ask students to put their phones away and get out their novels or a subject text book, please do the same at home.
Progression markers
With the dissolving of the National Curriculum Levels schools in the UK and internationally are either continuing with National Curriculum Levels or creating systems that best suit the school. Over the past year Headstart has been developing their progression framework statements, these are subject specific statements that support the tracking of student progress. We have now developed a system of progression markers. Children will receive a working towards, meeting or exceeding statement plus an age related marker for example 8WT. This means that the student is working at a year 8 working towards (8WT). These markers and statements will be reflected in the marking of student's books and the reporting system, plus teachers tracker sheets.
Prefects/Head Boy and Head Girl
Prefects have been elected as shown below. Congratulations to Enzo Couture and Luybov Omelchenko for their new appointments as Deputy Head Boy and Girl.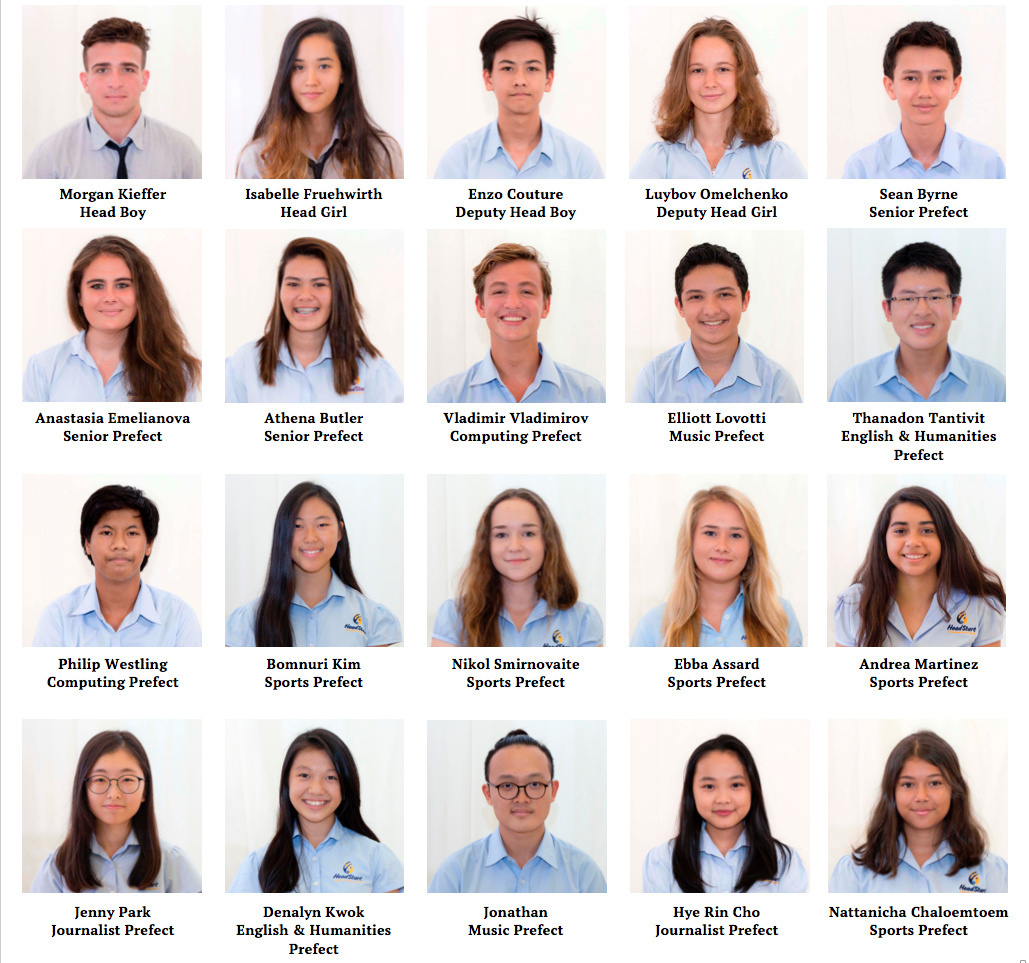 Thai Department Update
Reception Thai Class by Khru Dia
Our reception children have been very excited to learn the 'aa' vowel this week in their Thai class. Everyone got into the challenge of reading words with the 'aa' vowel and matching them correctly with the right pictures. Well done!
Discussing Holidays By Kru Dia
The Year 6 students were in high spirits when talking about their holidays in Thai class. They made booklets telling what marvelous and fun-filled activities they did during the holiday.
Sports and P.E. News–by Darren Beanland
It was a great start to the Football season for the Under 9 and Under 11 teams. Congratulations to our teams who won or tied in every game.
Under 9 Blue Team
HS 3/0 QSI
HS 7/0 BIS WHITE
HS 4/0 BIS ORANGE
Under 9 Yellow Team
HS 1/1 KIS
HS 2/1 BIS ORANGE
HS 3/0 BIS WHITE
Under 11 Team
HS 3/1 KIS
HS 1/0 UWC
HS 1/1 BIS WHITE
HS 2/0 BIS ORANGE
Golf Champions
Congratulations to Katerina Mogensen and Mason Holmes for winning first and second place in their categories at the Thai Golf Association Junior championship that was held in Phuket. Well done!
MacBurger Weekend at Anthem WakePark
If you are looking for something to do this weekend, Anthem Wakepark is hosting a fundraiser for Mac Rosen. Mac was born and bred in Phuket and is known to many members of our school community. He used to be one of the top national wakeboarders representing Thailand until 3 months ago when a wakeboarding accident caused his left leg to be amputated. The purpose of Mac Burger weekend is to help Mac with his rehabilitation and physiotherapy costs. Burgers and fries will be on sale from 11.00am - 6.00pm on Sunday (18th September) and all proceeds will go towards supporting Mac's medical bills.