Chaofah Weekly
2 years ago
Weekly Update #6, 5 November 2021
Upcoming events can be found on the website under School Life → Calendar and are outlined here for easy reference. For daily updates and news follow the HeadStart Facebook Page and YouTube channel.
| Date | Time | Event | Location |
| --- | --- | --- | --- |
| 12 November | 8.15am | UPrep Talk- Drop-In Session | Coffee Shop |
| 19 November | All day | Casual Clothes Day for Charity |   |
|   | In class | Lay Krathong Activities | In class |
| 24 November | 8.15-9.15am | Russian Speaking Parents Meeting | Secondary Hall |
| 01 December | 8.15-9.15am | Mandarin Speaking Parents Meeting | Secondary Hall |
| 02 December | 8.15-9.15am | EAL Parent Workshop | Secondary ICT 3 |
| 06 December |   | Closed for Father's Day |   |
| 07 December | 3.00-5.30 pm | Y11 BTEC Presentation & Subject Fair | Sports Hall |
|   |   | Book Fair (By Books@53) 7-9 Dec | Primary floor |
| 09 December | 8.15-9.15am | EAL Parent Workshop | Secondary ICT 3 |
| 17 December | TBA | Parent/Teacher Conferences |   |
| 20 Dec - 4 Jan |   | School Holidays |   |
| 05 January | 8.00am | First Day of Term 2 |   |
Jazon Edouard
Founder and CEO
[email protected]
Welcome to HeadStart International School, Phuket! A school where education really does come first. As the school's founder and CEO I have always operated with the belief that the most important aspect and resource of our school is our teachers. Our team of dedicated, professional and caring teachers makes HeadStart the energetic, challenging, successful and nurturing environment that it is today. At HeadStart, your child will become part of the unique, multicultural learning environment and community which our school provides. Our goals and objectives are clear and steadfast: Dedicated, qualified, experienced and inspired teachers. The Cambridge curriculum and assessments. A central location with adequate teaching facilities and equipment. As a father of five boys I appreciate that finding the right school at the right price is also an important issue when choosing a school for your child. We are committed to providing a wholesome teaching and learning environment for our students and achieving high academic results combined with an affordable price.
Like many members of our school's community, I am passionate about making sure that we, as individuals and as an organisation take appropriate action to address long term environmental concerns. I have found it very interesting to read the news and information regarding the COP26 Conference which was held this week and it has been encouraging to see so many countries making serious commitments to tackle climate change and convert to clean energy to reach 'net zero'. Our school is committed to not only teaching our students about the importance of caring for the environment and tackling climate change but also to taking real action to ensure that we as a school are leading by example in this area, implementing change and demonstrating what can be done as a community.
Here is a link that shows some of the sustainability initiatives which our school is already undertaking: HeadStart Sustainability
We are now setting up an Eco-Committee for our school which will meet once per term to discuss and plan new initiatives and projects. If you as a parent have relevant experience and passion and want to commit to working with us to find viable pathways to being a more sustainable school and community, please email me at [email protected].
As a school, we have committed to dedicating our term 1 fundraiser to supporting the Phuket Sunshine Village in order to strengthen our ties with the local community and develop ways in which we can educate our students to share the good fortune that we enjoy. On Tuesday I met with Khun Wilaiwan, the director of Phuket Sunshine Village. I wanted to get an update on how the foundation has fared during Covid. In conversation I discovered that donations of food and supplies continued to be frequent despite Covid - good news! The not so good news is that a lot of their funding has dried up due to the economic downturn. With running expenses reaching up to half a million Baht per month, PSV needs as much support as we and the community can offer.
"After the rough time of fighting Covid 19, the conversation with you, and my sharing it with the staff of your friendly cares and concerns, definitely cheered us up as we are fighting together". -Khun Wilaiwan, 3 November, 2021
Interesting facts about Phuket Sunshine Village
PSV was founded after the Tsunami in 2004. It is located on Koh Sirey where there is a large port. Many people work in the fishing industry, earning very low wages.
PSV is a foster home for children in need and helps to care for children whose parents are unable to.
There are around 100 children ages 2 to 18 living at PSV. They attend the local schools during the day.
PSV has expenditures of up to 500,000 Baht per month. Expenses range from electricity, water, maintenance, staff salaries, etc.
Click here to visit the Phuket Sunshine Village website
How HeadStart has played a part in PSV development
In 2019 HeadStart raised 140,000 baht for PSV. Last year we raised a bit less due to Covid but it was still a respectable amount of 80,000 Baht.
All of the dining and playground equipment was donated by HeadStart when we moved to our new facility in 2015.
This year, the School Board has committed to sponsoring 10 children's English classes at HeadStart every Saturday morning from 9.00am-12.00pm.
How You Can Support!
Sponsor a child! Visit the display in the atrium and ask our friendly front office staff for more details.
Casual Clothes Day 19 November - 50 for 50. This means you bring in a donation of 50 Baht, 1 Baht per the 50 children we are aiming to support!
Did you know??? PSV receives around 20-30,000 Baht a month just from the K-Bank app. People have the option to donate to a cause by clicking the button at the bottom of the screen and choosing a charity to donate to. Try it. It's very easy to do and goes a long way!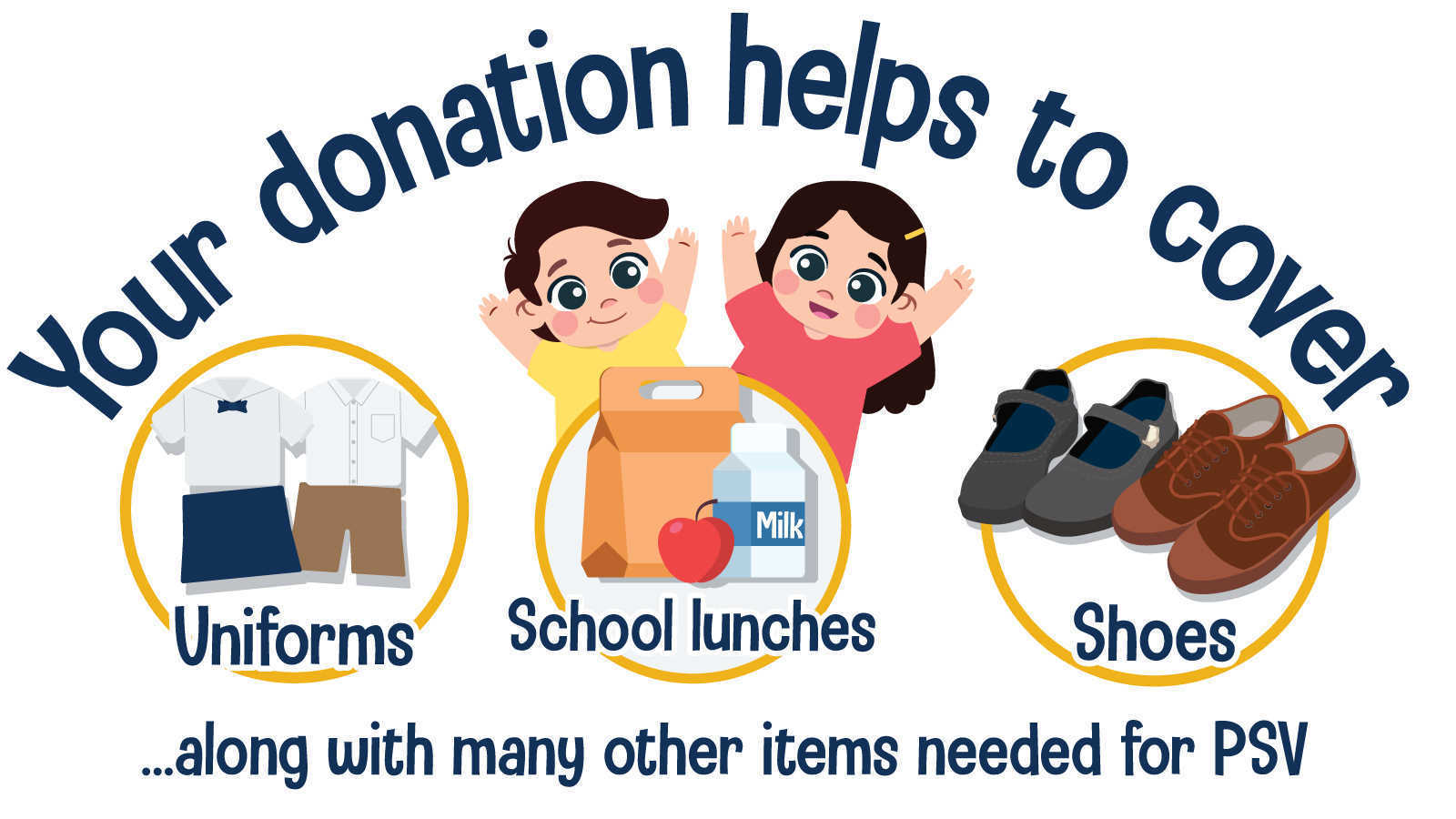 Primary Parent Meeting - Online Homework (9 November)
I would like to invite you all to a meeting on Tuesday 9th November 2021, in the Secondary Hall, from 8.15am. At the meeting, members of my Primary team will share information with you regarding our Primary homework platforms for maths, reading, and our new platform for spelling. We will explain why we use these platforms and also demonstrate to you how you can access these programmes at home. This meeting will also be an opportunity for you to answer any questions you may have regarding our homework strategy in Primary. The meeting will be presented in English, and members of the Thai Team will be in attendance to support. My team and I look forward to welcoming you all then. -Mr Sam Khan, Head of Foundation and Primary
Meeting Invitation for Russian speaking Parents (24 November)
We would like to invite all our Russian-speaking parents for a meeting on Wednesday 24th November in the Secondary Hall on the 4th floor from 8.15 - 9.15 am. There will be a presentation about the curriculum and questions about the Russian language program will be addressed. The meeting will be presented in Russian and members of Senior Management will be in attendance. If you have points or questions which you would like to have addressed at this meeting, please email your points to our Russian Language Admin Coordinator at [email protected]
Meeting Invitation for Mandarin Speaking Parents (1 December)
We would like to invite all of our Mandarin speaking parents for a meeting on Wednesday 1st December in the Secondary Hall on the 4th floor at 8.15 - 9.15am. There will be a presentation about the curriculum and questions about the Mandarin language program will be addressed. The meeting will be presented in Mandarin and members of Senior Management will be in attendance. If you have points or questions which you would like to have addressed at this meeting, please email your points to our Mandarin Language Coordinator at [email protected]
Coffee Mornings With the Counsellor
Coffee Mornings with the Counsellor will be an opportunity for parents to connect with each other in an informal environment as well as learn and ask questions about different topics related to parenting. Please complete the survey so that we can learn what topics you are interested in. Dates for the meetings will be provided in due course. Thank you for your time. Ms Stephanie Costa
ATK Testing
For all children attending school on Monday 8th November, parents must ensure their child has taken an ATK test using a home testing kit and upload the result here: https://forms.gle/YNqv5igGCNXhZT3Z9. The form takes only a few clicks to complete and we ask that this is completed by 6pm on Sunday 7th of November. More information regarding vaccine 'passports' for Secondary students can be found in the email sent out by Mr Adam Drew via email on 5 November.
Remembrance Day
We would like to invite the HeadStart community to show your support for the Royal British Legion who will be selling poppies in the school atrium next week. Remembrance day is when we give thanks and often pray for those who gave their lives or their health so that we, our children and our children's children can enjoy the freedoms that we enjoy today. We remember not only soldiers and sailors, but also remembering the civilians who lost their lives in conflict. At HeadStart, we are using this opportunity of remembrance to consider how we can avoid conflict with each other through dialogue. If you would like more information about this project, please visit the booth in the atrium.
Winners of the Halloween Costume Competition
And the winners are…..contact the front office (next week) for your prizes! (Click to expand photos)
Spotlight on Social and Emotional Learning (SEL)
This week we focused on building community across the school. Our Primary students and Sixth Form students worked together to complete the Mandala created to celebrate Diwali. A big part of emotional wellbeing is based on feeling part of a group, part of a community. Student Leaders run multiple events throughout the year to continue to develop the sense of community at HeadStart.
Zara is attempting to fly solo around the world as the youngest woman ever. Zara is a 19 year old Belgian/British national. In doing so she is hoping to inspire young girls and women to go into STEM (Science, Technology, Engineering and Maths) and aviation related fields. As a young girl, she found it quite discouraging not to be able to relate to many women around her and would like to be able to change that. We are very excited about the possibility of hosting Zara at HeadStart sometime in the middle of November, depending on weather conditions in Russia. To follow Zara's journey, visit her Facebook page FlyZolo
The swimmer for the week of November is Clara Jeong. This is her first year on the Academy Team and she has been an outstanding addition. Clara is always pushing herself to improve, smiling and a positive force within the team. We are so happy to have her on board. Congratulations Clara, you deserve it! -Coach Zak Brown
Deputy Head Boy and Head Girl
Primary is delighted to announce our new Deputy Head boy and girl. This week Mr Khan interviewed many candidates for the roles. The interested children in Year 5 wrote a letter of application explaining why they wanted the position and what they hoped to bring to the role. Each candidate was interviewed by Mr Khan who then had the very difficult job of choosing who would be successful.
We are delighted to announce that John Chadwick and Seoha Im have been appointed and will support our current Head boy and girl before they take up these positions themselves next year. I am sure you join us in wishing both children the very best of luck in their new roles and we are in doubt that they will be excellent additions to the Primary Student Council team. -Ms Sophie Cunningham, Deputy Head of Secondary
Last week saw the start of ASPs and VAPs in school. One of these weekly activities is the Primary Magazine Club, a collective of students from Years 5 and 6 who all share a passion for writing. Each week, this talented group of wordsmiths will be coming together to write articles that reflect what's happening around the HeadStart Campus. Their first task was to write about their own exciting experiences of Halloween. As you can see, the students from Year 5 were able to write with effective description and personal voice to reflect the day's activities wonderfully. We hope you enjoy reading their articles. From the Primary Magazine Club. -Mr Alex Bell (Click on the photos to expand)
Year 2 Blue have been leading their own learning today in both Math and Science with some child-led research in the style of scavenger hunts. Today's Math number hunt around the playground involved looking for numbers and their corresponding fact families, representations and spelling. It was amazing to see them applying their number knowledge and working together to find matching cards. In the afternoon, children had to find out all about the life cycle of plants by searching for facts and information that was hidden in the plants and trees! I was so impressed with how they raced around, eager to find out as much as they could. Back in the classroom, children presented their information using either playdough, a poster or impressively - through drama! What a super time we have had; I am very proud. -Ms Charlotte Myers
Congratulations to Annabelle Prentice who correctly deciphered 18 out of the 22 authors in my cryptic half-term quiz. The worthy runners up were Yeeping Chattho and Abigail Page. Here, Annabelle and Abigail proudly show off their prizes- a leather bound diary to help them become the next Samuel Pepys or Virginia Woolf and, of course, some pens to write in them. -Mr Pollicutt, Head of English