Chaofah Weekly
6 years ago
Weekly Update 9, 27 Oct. 2017
Dates for Your Diary
Upcoming events can be found on the HeadStart calendar on the website School Life → Calendar but we have outlined upcoming events here for easy reference.
| Date | Time | Event | Location |
| --- | --- | --- | --- |
| 28 October | 3:00 | Beach Clean Up | Surin Beach |
| 28-29 October | All day | DoE group 2 Bronze Level Training | Ao Yon beach |
| 30 October | TBA | Student council Meeting | Computing Classroom |
| 31 October | 8:15-9:15 | Thai Parents Meeting | Sixth Form Hall |
| 02 November | 8:15 | Parent Committee Meeting | Conference Room |
| 03 November | 6:15 | Addams Family Secondary Production | Sports Hall |
| 04 November | 6:15 | Addams Family Secondary Production | Sports Hall |
| 04 November | Morning | PISAC Soccer Development League | HeadStart |
| 07 November | 8:15 | Thai Parent's Meeting | Secondary Hall |
| 07 November | After school | U 9, U 11 PISAC Football Tournament | UWC |
Have you got your tickets for the Addams Family? Don't miss it! 3-4 November, doors open at 6:15 pm. Food is served between 4:00-6:00 pm presented by Bake Free!
3 November No ASP/Second School Bus
Due to Halloween activities and the Addams Family prep right afterwards, there will be no ASPs on 3 November. This also means that there will be no 4:20 pm school bus. Students needing the school bus should go on the 3:30 pm trip or arrange to be picked up by parents.
---
Applying for Documents from the Front Office
In order to avoid disappointment we recommend that you allow for 30 working days if you are applying for visa documents when abroad. If you are in Phuket, please allow for 1 week for the admin team to prepare your documents.
---
Parent Committee Meeting Agenda
By Mr Jazon Edouard
Effective communication and partnership between parents and the school is an important part of making HeadStart the best possible school for your child. As part of this communication process, our Parent Committee meets with members of the school management team three times per year to discuss parents' concerns, questions and suggestions.
This year, a number of new parents have accepted our invitation to join the HeadStart Parent Committee and we now have a total of 10 parents from 8 different nationalities making up the committee. Our next Parent Committee meeting is scheduled for 8.15 am on November 2nd. We would like to ask that parents that have questions, comments or concerns that they would like to have added to the meeting agenda please email their points to the HeadStart Parent Committee by Monday October 30th. Points can be emailed to [email protected] or directly to the email address of the individual committee members as listed on our website. Parent Committee
Thank you for your time and attention to this request.
เนื่องจากการสื่อสารที่มีประสิทธิภาพและความสัมพันธ์ที่ดีระหว่างผู้ปกครองกับโรงเรียนเป็นส่วนสำคัญยิ่งที่ขับเคลื่อนให้โรงเรียนนานาชาติ เฮดสตาร์ท เป็นโรงเรียนที่ดีที่สุดสำหรับบุตรหลานของทุกท่าน และส่วนหนึ่งในกระบวนการการสื่อสารนี้คือโรงเรียนมีตัวแทนคณะกรรมการผู้ปกครองเข้าร่วมประชุมกับคณะผู้บริหารของโรงเรียนปีละสามครั้ง เพื่อนำเสนอและหารือแนวทางการพัฒนาโรงเรียน ตอบข้อสงสัยและคำถามต่างๆ จากผู้ปกครอง และในปีการศึกษานี้มีผู้ปกครองนักเรียนตอบรับคำเชิญเข้าร่วมเป็นคณะกรรมการผู้ปกครองของโรงเรียน ทั้งหมด 10 ท่านจาก 8 สัญชาติ
การประชุมคณะกรรมการผู้ปกครองครั้งที่ 1 ของปีการศึกษานี้จะจัดขึ้นในวันที่ 2 พฤศจิกายน เวลา 8.15 น. ทางโรงเรียนจึงขอแจ้งให้ผู้ปกครองที่มีคำถามหรือหัวข้อการประชุมที่ต้องการให้คณะกรรมการผู้ปกครองนำเรื่องเข้าเสนอในที่ประชุมครั้งนี้ ส่งคำถามและหัวข้อในการประชุมของท่านไปยังอีเมล [email protected] หรือที่อีเมลส่วนตัวของคณะกรรมการแต่ละท่านตามที่ปรากฏในเว็บไซต์ของโรงเรียน Parent Committee ภายในวันจันทร์ที่ 30 ตุลาคม นี้
---
DoE Beach Clean Up Details
A Term 1 beach clean up schedule has been posted to the website for easy reference. DoE Beach Clean Up Schedule
28 October Karon beach clean. Please meet at school at 8:00 am. Mr Teachers will bring the students to the beach and will arrive back at the school at approximately 11:00 am.
---
Halloween
Welcome to this year's Halloween activities! On 3 November all students should come in to school dressed up in Halloween costumes and look forward to the following horrors…
Photo booth in the atrium where you can relive your worst nightmares along with a hashtag # picture competition. The first 60 photos to be published on instagram with the hashtag #headstarthalloween will be printed and available for pick up in the atrium after school. This fun project will be run by the team at Eezelife. For more info contact them at their booth on 3 November.
A 'ghoulishly disgusting' Halloween themed lunch and snacks. (Don't worry. Only the names are horrible!)

Halloween treasure hunt for forbidden treasures.

'Wrap the Mummy' game during lunch break

Pumpkin Carving and Best Halloween Snack competition.
Students will have the chance to vote for the best dressed teacher. The teacher who gets the most votes will win a gift voucher from Central Festival. So…get voting!
Important Note: Carved pumpkins and home made Halloween snacks must be prepared at home and stored in classrooms until lunch time at which point students should bring them to the tables in the atrium to be judged by Mr Carter.
No ASPs/Second School Bus: Due to the Halloween activities and the Addams Family prep right afterwards, there will be no ASPs on this day. This will result in no 4:20 pm school bus. Students needing the school bus should go on the 3:30 pm trip.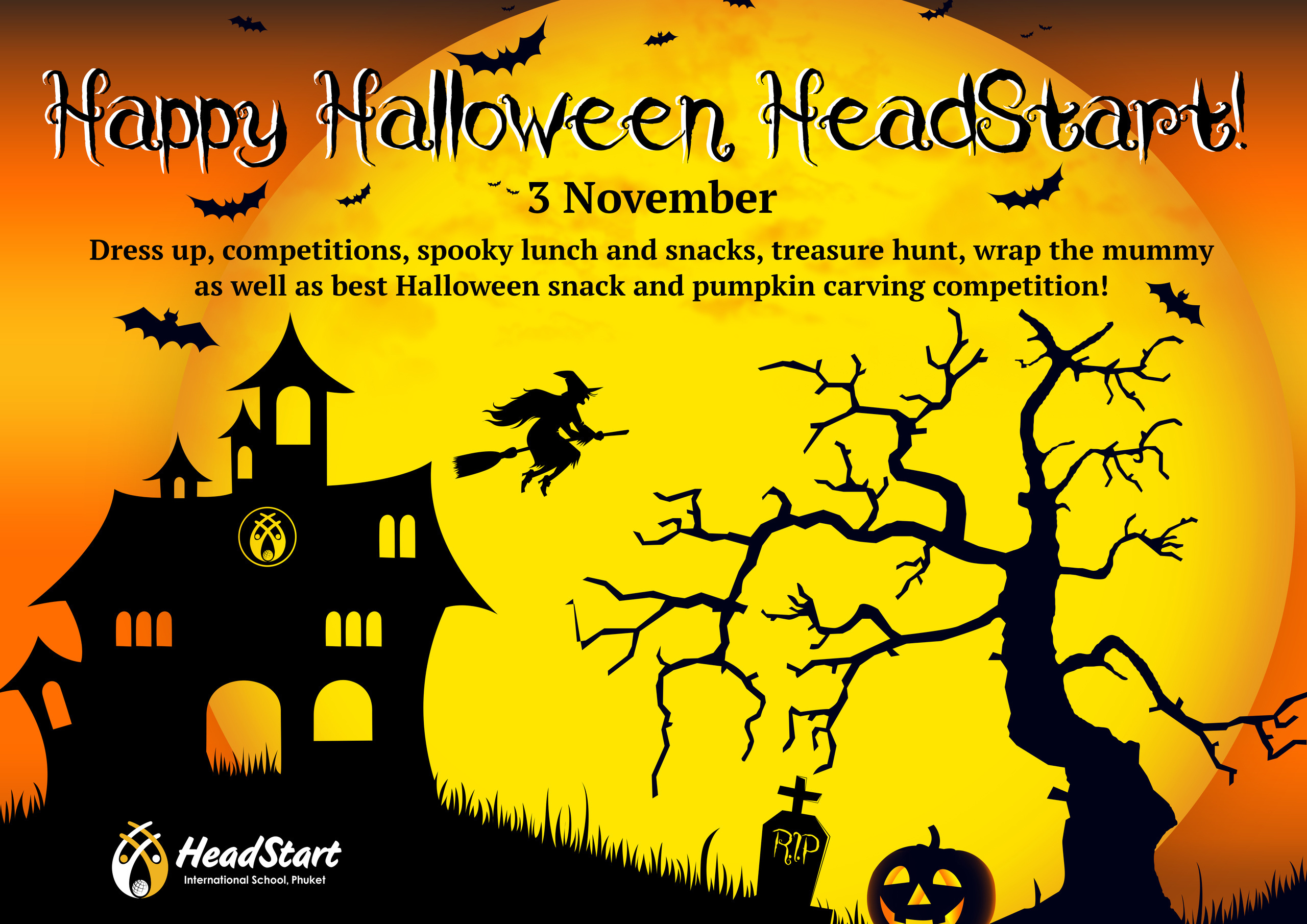 Christmas Shoebox Appeal
We have been asked by a number of parents if they can prepare their shoe box gifts at home. We are inviting all students, parents and teachers to prepare a Shoe box Christmas gift for a child aged between 2 - 18 years old, either boy or girl.
It's simple! Here's all you need to do;
1) Decide if your Christmas Shoe box gift will be for a boy or girl.
2) Decide on what age of child you will make a gift box for.
3) Next time you are out shopping, please pop in a few extra items from the list below to add into your Shoe box.
4) Clearly mark your finished box with your House team, boy or girl and age. For example Cheetah's, Girl age 5.
5) Do not seal your box, but do bring them in with some wrapping paper by Friday 17th November.
6) We hope to beat our previous Shoe box target of 320.
7) Please be generous and support our Christmas Appeal this year. We are supporting two local charities and need your help!
House Points will be given for every Christmas Shoe Box Gift that comes in. All points will be added to the Term 1 total which will be counted at the end of November and help to finalise which winning team will get the end of Term 1 House Treat.
Please be generous and support our Christmas Appeal. All Shoe box Gift donations will be delivered locally to The Sunshine Village and Phuket Child Watch at the beginning of December. With your generosity, we could make many children very happy this Christmas. Good luck and get packing!
What your completed box should look like.
Good Luck to out World Scholars Travelling to New York!
Next week on Sunday afternoon 6 of our scholars will be travelling to New York and then to Yale University to participate in the final round of this years World Scholar's Cup. We wish you all the best of luck in the hardest part of the competition yet!
---
P.E. Department News
Super Sprint Swimming Competition
By Mr Richard Lukats, Athletics Director
We wish the Aqua Panthers good luck this weekend as they take part in the Thanyupura Sprint Meet, this Saturday and Sunday, please come along and support the team as the pursue excellence in the water!
First Aid Training with SGS Training Team
On Friday 13th October and Friday the 27th October the whole of the PE, Swimming and Duke of Edinburgh Teachers, were involved in Life Guard Training, delivered by SGS. As you can see it was great fun, but the activities were very demanding and all the staff passed. So rest assured that learning never stops even for the teachers at school and your children are in safe hands when it comes to our swimming programme.
Thai Department News
Foundation Wai Kru Ceremony
Primary and Secondary Wai Kru Ceremony
---
Foundation News
By Ms Fiona Scott, Deputy Head of Foundation
The children have made a super, settled start back to the new half term. It has been lovely see their smiling faces and hear all their holiday news. This half term promises to be very busy with events, trips and shows, please can you make sure you regularly check the parent portal, website and your emails for updated information.
Allergies and Medical Information
As children get older, they sometimes grow out of certain food allergies and therefore their catering needs may change. Don't forget to keep the school informed if your child requires any changes to their dietary needs or if there is any updated medical information that we need to be informed of.
Reception Stars of the Week
A big well done to this week's Reception Stars of the Week. Ingfah and Eve in reception Yellow were both awarded certificates for putting in a great deal of effort this week with their English speaking and phonics. Taisiya and Chaewon received their certificates for working in Math's and beginning to understand number sentences. A super week for the girls!
We learned about the story of Frankenstein in our ASP class and then we made our own…By Ms Airl Mandaro