10 Feb 2017
Events
6 years ago
Mom's Night Out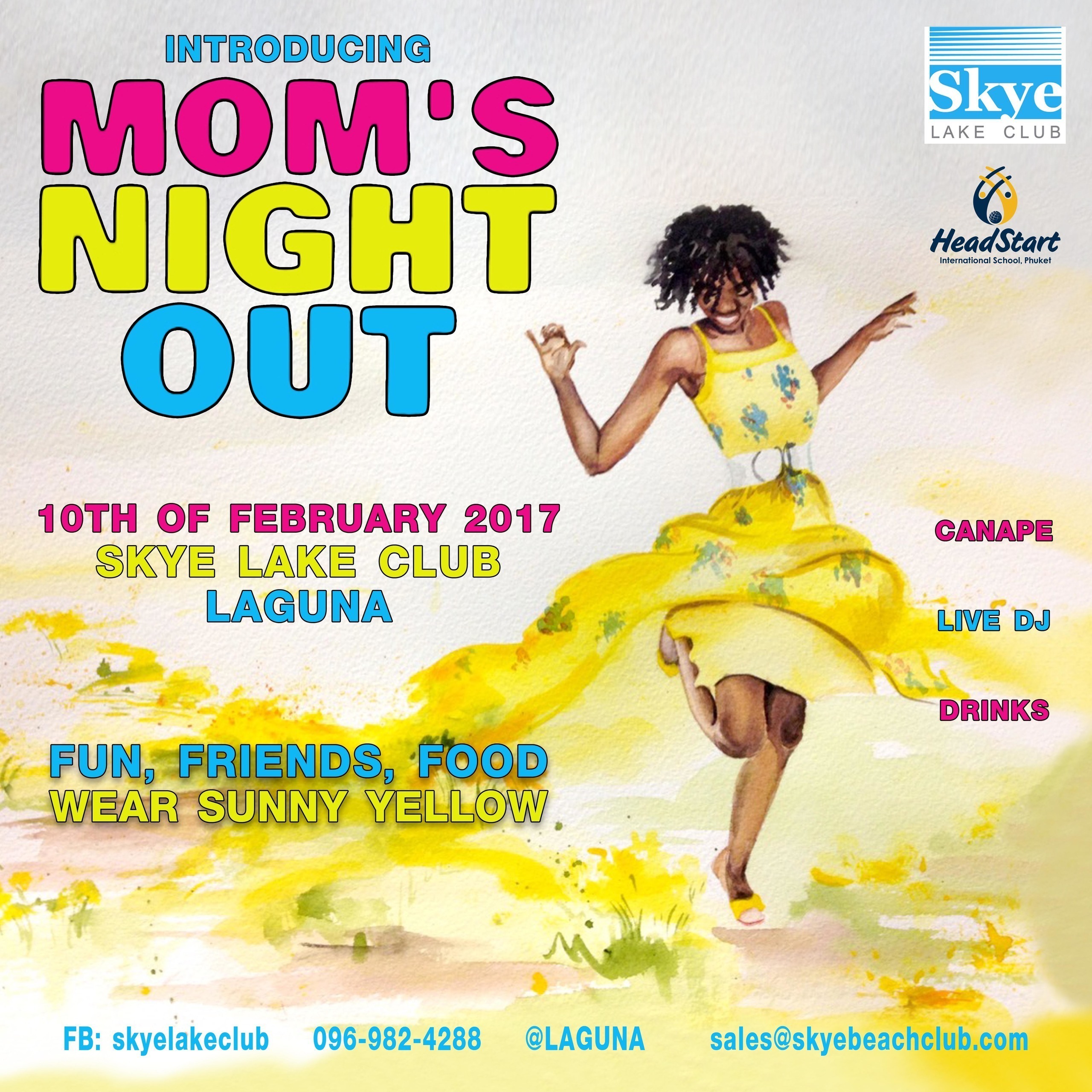 Dear hard working, beautiful HeadStart moms,
It's time to leave your responsibilities behind and have some fun!
We invite you to join our first 'Mom's Night Out' for 2017 at the Skye Lake Club in Chern Talae on the 10th of February, 2017, from 7:00 pm until late. There will be canapes, drinks and dancing and most of all a relaxing time getting to know each other. Sunny yellow is out theme.
We have organised school transportation from the school and back so that you can enjoy your evening without having to worry about road safety. Please register with the office if you would like to sign up for this service free of charge courtesy of HeadStart. Buses leave from school at 6:30 and return to school by 12:00 pm.
Tickets are only 800 Baht and can be purchased in the front office. Tickets include 2 drinks, canapes and a lot of fun!
ถึง คุณแม่ชาวเฮดสตาร์ททุกท่าน
เราขอเชิญคุณแม่ทุกท่านร่วมสนุกกับกิจกรรมพิเศษของปีการศึกษา 2016-2017 นี้
"ค่ำคืนเฉพาะของเหล่าคุณแม่" คืนอันแสนพิเศษที่เราตั้งใจเตรียมงานให้กับเหล่าคุณแม่ได้มีเวลาผ่อนคลายจากการทำงานและครอบครัวซึ่งจะได้ทำความรู้จักกับคุณแม่ท่านอื่นๆ
ซึ่งกิจกรรมนี้จะจัดขึ้นในคืนวันที่ 10 กุมภาพันธ์ 2560 เวลา 19.30 น. ที่ร้าน
Skye Lake Club เชิงทะเล ภายในงานมีการร่วมเต้นรำและแต่งตัวด้วยธีม Sunny Yellow สีเหลืองสดใส บัตรราคา 800 บาท ฟรีเครื่องดื่ม 2 รายการ และอาหารทานเล่น พร้อมกับฟังเพลงเพราะๆ จากวงดนตรีสด
เริ่มจำหน่ายบัตร ตั้งแต่วันนี้เป็นต้นไป ที่ออฟฟิศฝ่ายธุรการโรงเรียน
ทางโรงเรียนได้มีการจัดรถรับ-ส่ง จากโรงเรียนไป-กลับ ร้าน Skye Lake Club เชิงทะเล โดยไม่มีค่าใช้จ่ายใดๆ เพื่อให้ทุกท่านสามารถสนุกได้เต็มที่กับค่ำคืนสำหรับเหล่าคุณแม่โดยไม่ต้องกังวลในเรื่องของการขับรถกลับหรือการเดินทาง
หากท่านใดสนใจไป-กลับกับรถโรงเรียน สามารถติดต่อและลงชื่อได้ที่ออฟฟิศฝ่ายธุรการโรงเรียน โดยรถโรงเรียนจะออกเดินทางเวลา 18:30 น. และเดินทางกลับเวลา 00:00 น.
เราหวังเป็นอย่างยิ่งที่จะได้พบทุกๆ ท่านในวันงาน