Chaofah Weekly
6 years ago
Weekly Update 29
Announcements
Dates for Your Diary
Upcoming events can be found on the HeadStart calendar on the website School Life → Calendar but we have outlined upcoming events here for easy reference.
| | |
| --- | --- |
| 29 April | Thanyapura Open Swim League |
| 02 May | Thai parent Meeting |
| 03 May | Year 6 Business Enterprise in Atrium |
| 04 May | Final Yearbook photos |
| 5-7 May | Flying Fish Swim Meet |
| 10 May | Year 7-8 Parent Teacher Conferences (PTC) at 3:00 pm |
| 12 May | Friday Market |
| 13 May | Chicago Stories : end of year Dance Academy recital |
| 16 May | Secondary PISAC (inter school) Athletics Day |
| 19 May | Casual Clothes Day for charity |
---
Eco Tip of the Week
If you prefer to sleep with the air conditioner on, use the timer to help reduce your carbon footprint. Set it to go off during the night when you don't need it and have a fan turned on to keep you cool. Just three hours less a night means 90 hours less per month! Not only do you save money, but you also help save the planet.
---
Attendance
Please be reminded that the last day of school for all students is the 29th of June, 2017. Please ensure your child attends school to the very end of the year and please avoid taking them out of school early for family holidays. It has been proven that missing school impacts on both academic and social progress and we strongly advise against this. The 29th of June will be a fun activity day that the students will not want to miss!
---
Chicago Stories–Dance Academy Performance Invitation
On the 13th of May at 6:30 pm over 90 students from the Dance Academy will perform an end of year dance recital. We invite parents, friends and families to join the show. Tickets are available at 250 Baht in the front office. Book your seat today!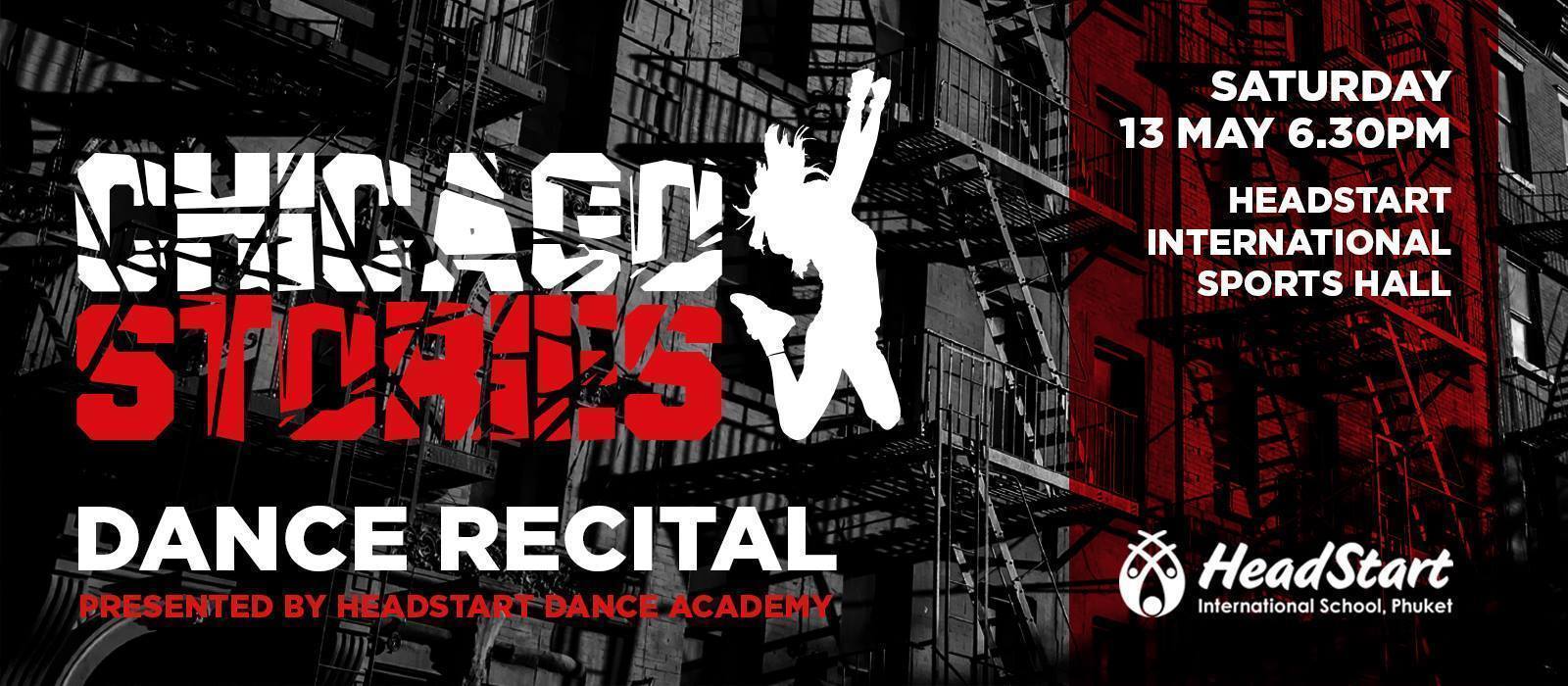 ---
Thai Parent Meeting Invitation
The Thai management team would like to invite you to an important meeting on Tuesday 2nd of May at 8.15 - 9.15 am at the Primary Hall. The meeting will cover these following topics. Please note that the meeting will be presented in Thai language.
Primary and Secondary timetable changes and improvement

New school fees and payment for 2017 - 2019

Endowment fees
---
Yearbook Sponsorship/Advertisements
Our team is currently in the process of compiling HeadStart's annual Yearbook for the 2016-2017 academic school year. This document is an important reflection of our student body and teaching staff, and features all the many events and activities that our school has participated in throughout the school year.
We have some great news for you! This year the yearbook will be given out for free. With nearly 480 families at HeadStart, a projected total of 550 copies will be printed and distributed to all HeadStart families in the final week of Term 3.
As an email has already been sent out regarding the specifics of sponsorship this is a final call for you to advertise your company or product to the HeadStart community. The due date for all artwork is the 12th of May, 2017.
HeadStart is currently the fastest growing international school on the island. At present we have more than 630 students enrolled, with a guaranteed audience platform of over 1,200 parents, not to mention friends and acquaintances who will want to flip through this attractive publication and see just exactly what HeadStart has been up to this year.
---
Photo Shoot for Yearbook–Final Call
Calling all new students, or students who missed having their photo taken for the Yearbook. Come to school prepared on Thursday the 4th of May. Please report to the Primary Hall at 9:45 to take your photo.
---
Summer Activity Camp
HeadStart International School, Phuket will be hosting a summer camp this year from the 3rd-21st of July, 2017 for students age 4 - 14 years old. This year the Summer Camp will include English lessons in the mornings with a variety of sports, art, cooking, drama and other fun activities in the afternoons. Students will also enjoy one recreational trip outside of school each week.
Fees for HeadStart registered students are 25,000 baht. Camp fees will cover lessons, lunches and snacks, a camp t-shirt, activities, art materials, recreational outings as well as accident insurance. Sign up before the 16th of June at the front office.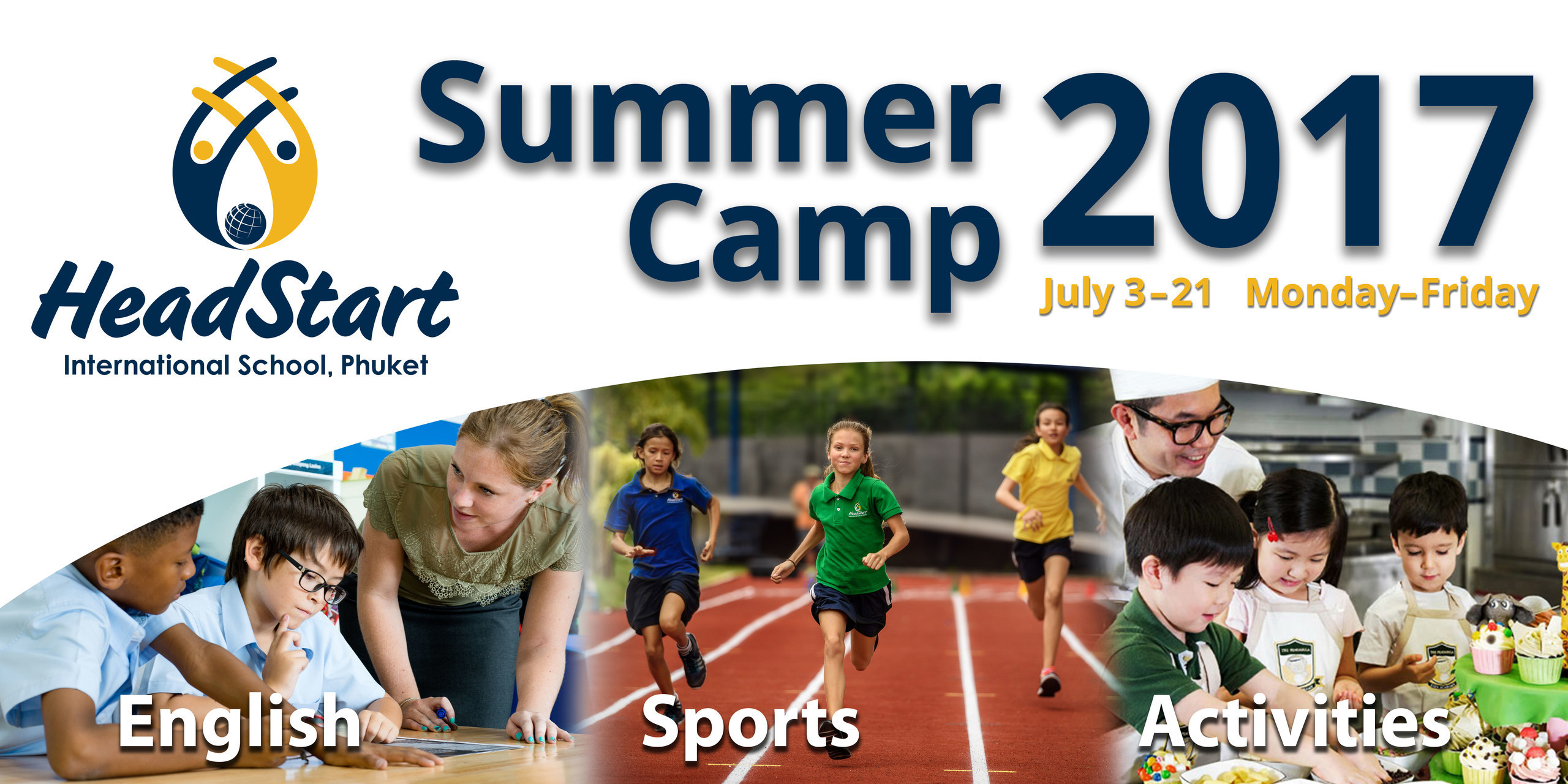 Swimming and Water Polo Camp August 14th - 18th
Fees: 5,000 baht including lunch. For ages 6+. Sign up with Head Swim Coach Zack Brown.
---
Football Camp August 14th - 18th
Fees 5,000 baht including lunch. For ages 6+. Sign up with Head Football Coach JR.
---
Thai School Teachers Visit
Please be informed that as a school, we will be welcoming 16 Thai teachers from Thai schools for a professional development opportunities from 1-12th of May, 2017. Every international school on the island has been asked to organise this activity to help develop Thai teachers who are teaching English in Thai schools. These teachers will be observing our teachers to watch lessons being delivered in English. I am sure that our community will make them feel welcome.
---
Come and Support Year 6 Business Enterprise
Year 6 will be selling healthy snacks and products on Wednesday 3rd May from 3:00 pm in the Atrium. Come along and purchase some tasty, guilt-free treats and find out how you can have a healthier lifestyle! The children are learning how to run a mini business and are in competition with each other to raise the most money, so please come along and support them if you can.
---
P.E. Department News
Swimming News
The Aqua Panthers 3rd Thanyapura Open League Competition is happening on Saturday the 29th of April starting at 8:00 a.m. HeadStart is currently in 2nd place in the league and looking to strengthen our position. The Meet should finish by lunch. See you there! Coach Brown
Football News
Football matches have been organised for the Under 11 and Under 13 football teams on Wednesday the 3rd of May with Kajonkiet School but on the HeadStart pitches. Kick-off time is at 3.45 p.m. Please help make sure the students arrive on time ready with water bottle and proper kit. Coach JR
---

Secondary News
By Ms Elizabeth Mason, Head of Secondary
I trust all parents and students had a restful break and a good Songkran celebration. The Check point and IGCSE AS/A examinations start in earnest this week. We wish all students the best of luck in their revision and Examinations. Please provide your child with healthy food and a distraction free environment where they can focus on doing 30 minute slot revision and note taking when at home. Please remind your child to make reference to the revision techniques that have been shared with students during the nuts and bolts score program with Mr Alan Yip.
Year 11, 12 and 13 will be having exams and then doing self-study in a supervised environment. The students in these classes will use the school library as their study space.
On the 10th of May there will be a year 7 & 8 parents evening which will start at 3:15 pm. Parents should collect there child's report from 3.00 pm onward and be seated for a short slide presentation and then go on to appointments with the teachers. This will take place in our Sports Hall.
We will establish a Prom planning committee and will include students from all year groups to help plan and prepare this important event. The students had their first meeting this week.
---
Year 7 Bangkok Barge Trip April 2017
Year 7 students had to be up early for a 4:00 am start on their way to Phuket Airport then Bangkok and their ultimate destination, a beautiful 20 meter long converted rice barge on the Chao Phraya River which would be their home for the next three days. We arrived at the barge by late morning and were greeted by the Barge Program crew who gave the students a brief outline of life on the barge and activities they would be taking part in.
Students took in turns to prepare meals, plan games and take part in bird-watching and navigation exercises. They also had to wash up their own plates and cutlery to inspection standard. This was an excellent environment for team building and many of them surprised themselves with what they were able to achieve. One of the biggest challenges, particularly for some of the girls, appeared to be being able to have a shower in 3 minutes which was strictly timed with penalties for running over time.
We made some stops along route up the river to disembark and take tuk tuks to visit a Buddhist temple, a museum and a Thai market where students had to buy ingredients for the evening meal.
Students closely examined river vegetation and found numerous lifeforms within it including tiny crabs and shrimps. They also carried out chemical analysis of the water to check how healthy or polluted it may be and when a clean area of the river was found the barge dropped anchor and students and staff were allowed to get life jackets on and jump in.
Year 8 and 9 Khao Sok Trip April 2017
Just before the Songkran break, 12 Year 8 students and 25 Year 9 students were lucky enough to embark on an adventurous escapade into the jungle. Mobile phones were switched for playing cards, Wi-Fi signal swapped for conversation, and 7-11 toasties and snacks ditched for organic, homemade food.
Sleeping in floating bungalows on a lake within Khao Sok National Park, the students spent their free time back-flipping from diving platforms, kayaking in mountain shadows and swimming from pier to pier. Mornings and evenings were spent on longboat safaris, the tours offering awesome opportunities to see monkeys, gibbons, birds and even wild elephants in their natural habitat.
Just after arriving at Ratchbrapha Dam, the Year 8 students went to a weaving farm where they learned how to produce silk and even did some weaving themselves. On Day 2 they visited a cave where they used only a head-torch to find living creatures in the cave. This helped them to understand the food chain in a cave. Day 3 consisted of studying a stream where they had to work out the flow rate of water into the Ratchbrapha Dam and determine the water quality in the stream. A process called kick sampling was used to record the presence of invertebrates in the water.
In preparation for their Duke of Edinburgh award next year, the Year 9 students also intrepidly engaged in two adventurous excursions. The first was a hike through the jungle to a viewpoint, the vista offering a mass expanse of lake and jungle and mountain. The second was in the depths of a cave, armed with nothing but a helmet and a head-torch. The cave in particular inspired many a scream, from bats and spiders and leeches to shoulder-deep pools and waterfalls in the dark.
The final day culminated in a competition where the Year 8 and Year 9 students competed in groups in some fun Water Sports Activities. Students made floating rafts out of cardboard, kayaked with flip flops and speedily swam in water competitions. Disgracefully, it was a Year 8 team who won the overall competition.
After four weary days in the jungle, the final KFC pit stop in Phang Nga was most welcome.
Primary News
By Mr Andrew Whittaker, Head of Foundation and Primary
I would like to welcome back everyone to our final term of this academic year - time moves on very quickly and this will be a very busy time, with the first of the 10 weeks already complete.
Congratulations goes to our Year 6 pupils who have now finished their Cambridge Checkpoint examinations. They sat papers 1 and 2 in English, Mathematics and Science over the last three days and they all managed to complete them - so a very big well done goes to all of the Years 6s for all their hard work, and to Miss Armstrong, Miss Mercado, Mr Eke and Mr Adviento for all their hard work in ensuring our Year 6s had the best possible preparation for these examinations.
I would like to take this opportunity to welcome Mrs Sophie Cunningham to our HeadStart community - she has taken over Year 4 Blue now that Mrs Thongsen has begun her maternity leave. I am sure you would all like to join me in wishing Mrs Thongsen all the very best with her maternity - the due date is fast approaching, although probably not fast enough for her at the moment!
It was very good to see so many parents at the meeting in the Sports Hall for the all school parent meeting yesterday, I would like to thank everyone for attending.
As previously mentioned this is the last term of this academic year and there is a lot to pack into this very busy period, so I ask parents to not be looking to take children out of school during this term. I wish everyone a restful family weekend.
---
Foundation Department News
By Ms Fiona Scott, Deputy Head of Foundation
Why is it children will give you a number of different excuses to avoid brushing their teeth each day? From "the dog ate my toothbrush" to "My teeth aren't dirty", I seem to have a daily battle to get my children to clean their teeth. My teeth brushing requests are only ever met with moans, groans and at times full blown tantrums! The worry is, is that I recently read an article about the rise of tooth decay in children in the UK. It stated that the number of tooth extractions on young children in UK hospitals has risen by almost a quarter in the last ten years. A worrying thought.
One of the main reasons for this is the high sugar content in the foods that children are now eating. Added sugar has found its way into a number of foods and drinks and as parents we must be conscious of the diets we are giving our children. We may have all been guilty at some point of using sugar to calm, entertain and reward our children but we must all be aware of the damaging impact sugar has on teeth.
So if we do not reduce the amount of sugar our children are consuming in their diets, we must ensure that we fight tooth decay and ensure good oral hygiene. I am hoping that I am not the only parent out there who experiences the same emotionally charged nightmare each bed time, but after reading this article, I am now more determined than ever to win the bed time teeth cleaning challenge.
---
Early Years Learn About Dinosaurs
Early Years have been very excited to return to school and explore our new 'Dinosaur' topic! So far we have made dinosaur skeletons using play dough bones and sand, joined in with the 'Dinosaur Stomp' song, created our own shape dinosaurs, looked at dinosaurs and fossils through magnifying glasses and even visited the Dinosaur Museum! By Ms Nikki and Ms Frankie
Congratulations to Preschoolers Jude, Puan, Sunisa and Lucy, they were excellent in English class this week!
Preschoolers made circus hats!
---
House News
By Mr Nick Carter, House Coordinator
Hi, everyone, and welcome back to Term 3! Although term 3 is relatively short (in comparison to terms 1 and 2) I want every student to be aware that it is still possible for any team to come out as House Champions! Don't forget, at the end of term 3, the winning House will go out on a fantastic House excursion, which will be revealed soon!
The all-important results for the Term 2 House merits are as follows.
4th place = Red Phoenixes (511 Merits)
3rd place = Green Dragons (520 Merits)
2nd place = Blue Tigers (542 Merits)
1st place = Yellow Cheetahs (663 Merits)
I am also delighted that the Blue Tigers have finally gotten themselves out of 4th place (currently sitting in 3rd place). That does now mean that the Red Phoenixes, who have now slipped into 4th place, have all the work to do. The Green Dragons continue to solidify their 2nd place position, but it is the Yellow Cheetahs who continue to be the House for everyone to catch.