Chaofah Weekly
6 months ago
Weekly Update #34, 2 June 2023
Dates for Your Diary
Upcoming events can be found on the website under School Life → Calendar and are outlined here for easy reference. If you have questions or require further assistance please email [email protected]
| Date | Time | Event | Location |
| --- | --- | --- | --- |
| 6 June | 8.15-9.15am | Parent Meeting: Y1 Language Options for Next Year | Primary Hall |
| 7 June | 8.30-9.30am | Our world - Foundation Stay and Play | Foundation Building |
| 8 June | 8.30-10.00am | Parent Committee Meeting | Conference Room |
| 9 June |   | Years 11-13 Post Exam Activity Day |   |
| 10 June | 2.00-4.00pm | Dance Recital | Sports Hall |
| 12 June |   | CAPA Dress Up Day |   |
| 12-16 June |   | Post 16 Programme-Work Experience/Activities/Trips |   |
| 13 June | 8.30-9.30am | New Foundation Parents Stay & Play (Chaofah City) | Foundation Building |
|   | 8.30-9.30am | Year 6 to 7 Parents Transition Meeting |   |
| 14 June | 8.30-9.30am | New Cherngtalay Preschool & Early Years Parents Stay & Play | Foundation Building |
| 15 June | 8.30-9.30am | New Cherngtalay Reception Parents Stay & Play | Foundation Building |
|   | 5.00-6.30pm | CAPA Expo Evening | Sports Hall |
| 16 June | 6.00-9.00pm | Secondary Prom | Ramada Hotel Chao Fah |
| 19-20 June |   | Year 13 Residential Trip | Boat Lagoon Hotel |
| 21-22 June |   | Year 11-12 Residential Trip | Bandara Hotel Ao Yon |
End of HeadStart ASPs and Primary pupil collection after school.
HeadStart ASPs (boosters, sports, clubs, VAPs, EAL) finish on 1 June.
Fee paid Programmes (Dance, LAMDA, Tennis, Jiu Jitsu, i-Zone clubs, IWICA clubs, Instruments) continue until 23 June.
Academies (Panthers, AquaPanthers, CAPA) continue until 23 June.
Starting Monday 5th June, Primary parents can collect their child from their homeroom from 3.20 pm to 3.40 pm (Fridays from 3.00 pm to 3.20 pm). At 3.40 pm (Fridays at 3.20 pm) any uncollected children will be taken down to the Dining Hall for our Late Pick Up provision. This revised system also applies to Bridging B and Bridging C pupils. If your child travels home on a school bus. The Bus Nannies will collect your child from the homeroom between 3.20 pm and 3.30 pm (Fridays from 3.00 pm to 3.10 pm). School buses will run as usual.
We are delighted to present an overview of our recent Term 3 Mandarin Language Parents Gathering, which took place on Tuesday, May 30th. The occasion revolved around the theme of "Moving and Living in a New Country" and showcased a captivating panel conversation. We were fortunate to have three distinguished guest speakers who kindly accepted our invitation. Mrs. Xin Ju, the mother of Yucheng Qiang in Y11, generously shared her invaluable insights. Mrs. Zhengyu Zhong, the mother of Jingcheng Cao in Year 4, also contributed her unique experiences and wisdom. Additionally, we had the pleasure of welcoming our school Headboy, Kairui Zhang, as our student guest speaker.
During the discussion, our panel explored various significant questions. They delved into how children acclimate to a new country, strategies for adapting to unfamiliar languages and cultures, available resources that proved beneficial to families, and guidance for parents who have recently relocated. Our student guest speaker also offered distinctive viewpoints on befriending children from diverse cultures, the lessons learned, and advice for fellow students undergoing similar transitions.
We would like to extend our heartfelt appreciation to our guest speakers and all the parents who attended the gathering and generously shared their personal experiences with our Mandarin-speaking community. Your valuable contributions truly enriched this event. As we look forward, we are excited about our upcoming panel discussions and welcome your suggestions for future topics of interest. Please don't hesitate to share any subjects you would like to see addressed in the forthcoming sessions.
We sincerely thank you for your continued support. -The Languages Department
——
我们非常高兴向您介绍最近举行的第三学期中文家长会,该会议于5月30日星期二举行。此次会议围绕着"在新的国家移居和生活"主题展开,呈现了一场引人入胜的座谈会。
我们很荣幸邀请到了三位杰出的嘉宾发言人,他们慷慨地接受了我们的邀请。鞠馨女士,十一年级Alex的母亲,慷慨地分享了她宝贵的见解。钟正宇女士,四年级学生Leo的母亲,也贡献了她独特的经验和智慧。此外,我们非常高兴迎来了学校的学生代表,张凯瑞同学,作为我们的学生嘉宾发言人。
在讨论中,我们的座谈会探讨了许多重要的问题。他们深入探讨了孩子们如何适应新的国家、陌生的语言和文化的策略,对家庭有帮助的可用资源,以及对最近搬迁的父母的指导。我们的学生嘉宾发言人还提供了与来自不同文化孩子交友的独特观点、所学到的经验以及给面临类似转变的同学的建议。
我们要向尊贵的嘉宾发言人和出席会议并慷慨分享他们个人经验的所有家长表示衷心的感谢。您宝贵的贡献真正丰富了这次活动。
展望未来,我们对之后举行的座谈会充满期待,并欢迎您对未来感兴趣的话题提出建议。请随时分享您希望在即将到来的会议上讨论的任何主题。
我们真诚感谢您一直以来的支持。
语言部
Gymnastics Club Open House
Welcoming all interested students to our Gymnastics Club Open House in the fitness studio or in Sports Hall!
Beginners (aged 5-7 years): Saturdays from 9.00-10.00 am

Any level (any level any age): Saturday and Sunday from 11.00 am-12.00 pm

Boys (above 6 years old any level): Saturdays from 10.00-11.00 am or Sundays from 10.00-11.00 am

Teenagers (or those at level 3 and up): Sundays from 12-1 pm
Prebooking required to reserve space. A fee of 500 Baht will be collected. Available dates are Saturdays on 3, 17 of June and on Sundays 4, 11 and 18 of June.
Introducing CAPA EXPO
CAPA EXPO, an event to celebrate and reflect on a fabulous year of creativity. Join us as we journey through design technology, art, drama, dance and music; highlighting academy work, class work and much more. This event includes 18 performances from over 100 students from year 3 to year 13 and is a fantastic celebration of our incredible and dedicated CAPA HeadStars. Tickets on sale in the front office at only 100 baht starting Monday!
As part of our CAPA faculty week, we will be hosting numerous events. You are invited to come and be inspired by an incredible art exhibition showcasing fantastic artwork produced this year by our CAPA HeadStars from ages 5-18. The grand opening will be on 14th June at 4pm with the Exhibition running from 14th-16th June.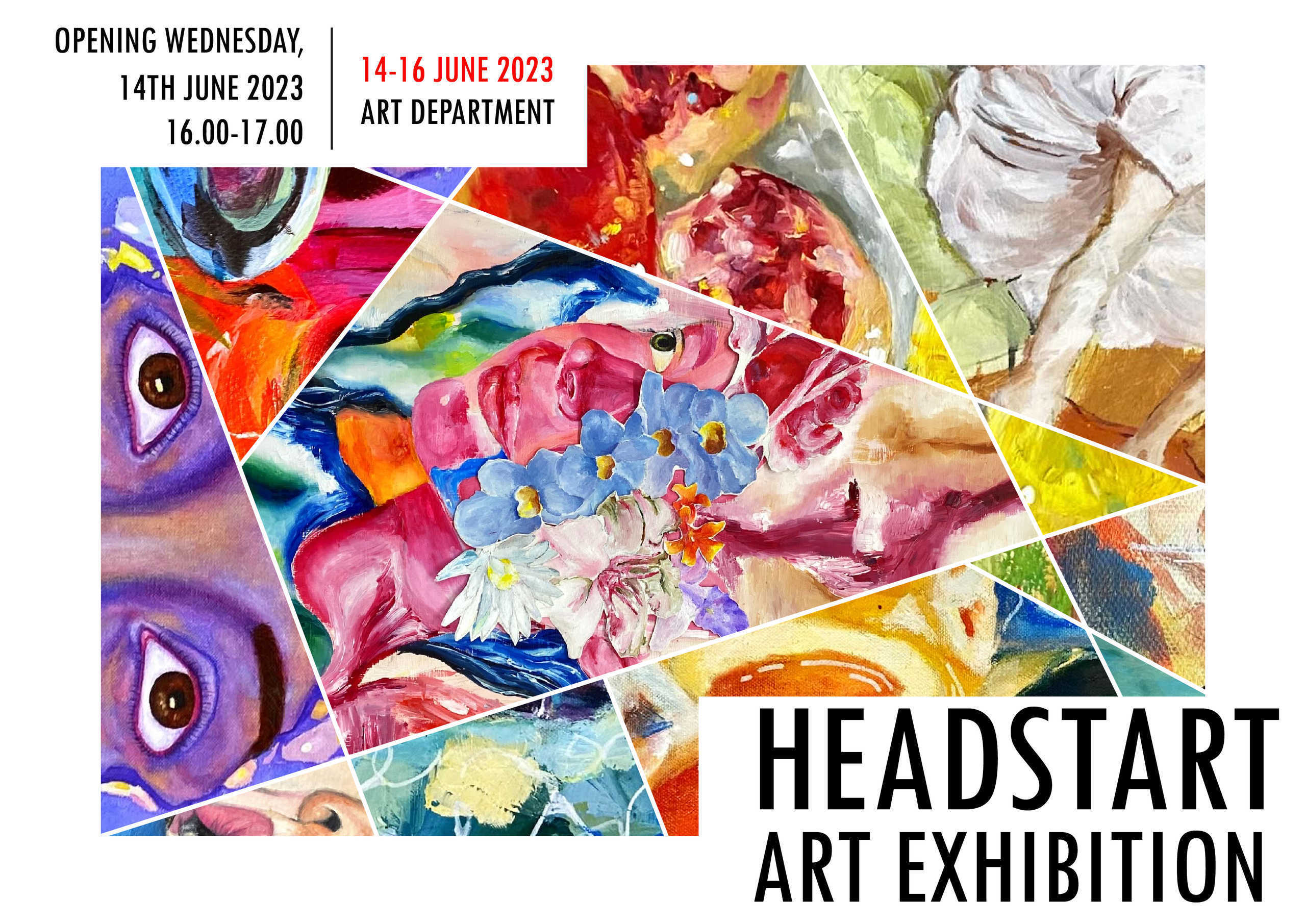 Attention all academy players, parents, coaches, teachers and staff! You are officially invited to the HeadStart End of Year Sports Awards on Wednesday, 28th June from 16.30-18.00 in the HeadStart Sports Hall. Attendance is mandatory (inform your Coach if you can't attend) and please dress formally…you may receive an award! Snacks will be provided. We look forward to seeing you there! -Mr Nick Carter (Director of Sport)
Paul Rothwell
Football Coach
[email protected]
My name is Paul Rothwell, and I'm from Skelmersdale, in the North-West of England. At university I studied sport science, and was involved with many research projects with professional football players and other athletes. I love to travel and when I finished university I travelled and worked in Australia for 2 years before moving to Thailand. I have been in Thailand for almost 8 years and have been teaching and coaching school children during my time here. In 2019 I completed my football coaching license in Bangkok. I love to coach football and I hope that I can help the players in the Panthers academy develop their skills and passion for the sport. I enjoy seeing players improve and take great pride in helping them reach their goals. In my spare time I love to watch and play football, I play for several teams here in Phuket. I also like to study Thai to help me communicate better with my Thai friends and colleagues. It has been great to see the players develop over my time working at HeadStart. Not just on the pitch, but off it too. I'm looking forward to the next few years and seeing the football academy expand.
FOBISIA 7's
The HeadStart Panthers under 12 Boys, under 14 Girls and under 16 Boys football teams went to Bangkok this past weekend to compete at the 2023 Federation of British International Schools in Asia (FOBISIA) 7's football tournament. The tournament welcomed teams from all around Asia including schools from China, Korea, Singapore and Thailand. This was an amazing opportunity for our players to experience tournament football over three days at Patana School Bangkok.
The HeadStart Panthers U15 Boys played in the U16 bracket of the tournament, coming up against some challenging opposition. Credit to the boys who pushed themselves throughout the three days, narrowly missing out on winning the shield.

Huge credit to the HeadStart Panthers U14 girls who again came up against strong teams in their bracket. They played some fantastic football and went unbeaten in 10 of the 11 matches they played. Well done Girls!

Our HeadStart Panthers U12 Boys had a terrific tournament. They played high level football against many very good teams. They managed to finish 2nd in their group of 8 teams. They went on to get into the final of the cup competition narrowly missing out on taking the top prize for the weekend, finishing 2nd out of 16 teams.
A huge thanks to the coaches, teachers and parents who made this trip possible. These are the unforgettable times that the players are able to really bond as a team and develop themselves as footballers. We are looking forward to more tournaments in the near future. Go Panthers! - Coach Paul Rothwell
Swimming
We're excited to share that our 11 & under swimmers did a fantastic job at their last swim meet of the season! The Aqua Panthers, KIS, BCIS, and Torwai teams all came together for a fun and exciting event, despite the rain. This meet was especially meaningful as it was the first for many of our young athletes, and we are so proud of how well they performed. We want to extend a huge thank you to all our volunteers who helped with timing, and to the visiting teams for making the trip to join us. Most of all, we want to congratulate all our talented swimmers who competed with such enthusiasm and dedication. And of course, we can't forget to thank our very own Coach Sarah, Coach Nut and Coach Puy for making the meet run so smoothly. Great job, everyone! -Coach Brown
Early Years had a wonderful visitor this week. Mr Strydom, who is a cargo pilot, came to talk to us about his job. He showed us videos and photos of sunrises, lightning storms and the aeroplanes he flies. He answered questions about his job, being good at maths, geography and very importantly how he lands in a rainstorm! Thank you to Mr Strydom it was so inspiring for the children. -Ms Suzi Chamchaeng
This term, the book club (level 11+) learned about The Book Storm, by Kevin Crossley-Holland. The pupils rated the book 4 out of 5 as most of them found the book to be boring at first. However, once they completed reading it they said they liked it as it was mysterious, interesting and it is a picture book as well. Well done girls! -Miss Shea
This week Year 6 Blue class created a performance using shadow puppets. They have been studying light and shadows in science, so we used this to perform a scene from our English book "Floodland". The book is about a world where the sea has risen due to climate change. I was really impressed with the creativity of the pupils designing and performing with their puppets. -Mr Edd
Science
Year 12 students in the Sciences have been busy preparing for their AS-level practical exams in the last few weeks, refining skills they have learned all year. These exams are a 2-hour test of experimental skill in each of Physics, Chemistry and Biology and are the culmination of their Secondary school practical training. Here at Headstart we believe that practical work is no simple add-on to scientific study, rather it is an integral part of what Science is at its most fundamental level. Understanding of errors, uncertainty and variables are probed in detail at A-level, and next year in Year 13 students will need to show high levels of expertise in data handling and experimental design. We wish them all the best in their ongoing exams. -Mr Dan Marsh, Head of Science
10 Tips for Keeping Your Kids Safe Online
Promotions from Around the Island