Chaofah Weekly
5 years ago
Weekly Update 35, 8 June 2018
Dates for Your Diary
Upcoming events can be found on the calendar on the website School Life → Calendar but we have outlined upcoming events here for easy reference.
| Date | Time | Event | Location |
| --- | --- | --- | --- |
| 11 June | All day | Secondary Work Experience |   |
| 13 June | All day | Reception Transition to Year 1 | Primary floor |
| 14 June | 4:30pm | Sports Awards Ceremony | Sports Hall |
| 15 June | 3:30pm | Ballet Recital | Dance Room 4th Floor |
| 16 June | 9:00am | Saturday Thai Culture Club | At school |
| 15 June | 6:00pm | Secondary End of Year Party | Hilton Hotel Karon |
| 21-22 June | All day | Year 11-13 Camping Trip | Adventure Mountain Club |
| 25 June | 1:30pm | End of Year Awards /Y13 Graduation | Sports Hall |
| 26 June | 8:30am | Reception Graduation | Sports Hall |
| 26 June | Morning | Winning House Reward | TBA |
| 26-28 June | Afternoon | Foundation/Primary PTC | Classrooms |
| 27 June | 3:25pm | Year 7-8 Parent Teacher Conferences (PTC) | Sports Hall |
| 28 June | TBA | End of Year Activity Day | Classrooms/Sports Venues |
For daily updates and news follow the HeadStart Facebook Page
ASP Reminder:
All free ASPs end this Friday, 8 June. All Fee Paying ASPs and Academies continue until Friday, 22 June.
---
Announcements
Sports Awards Event 14 June, 2018
Dear Academy Members,
Come and join the PE Team for an afternoon of sporting celebration on the 14th June 2018 @ HeadStart School for the 2018 HeadStart Sports Awards. The event will be in the Sports Hall form 4:30pm - 6:00pm, all those attending are asked to dress smartly as this will be a formal event. Guests will be served an afternoon tea at their table during the presentation of the awards. This event is by invitation only and is for those in the Football and Swimming Academies along with our School Basketball payers and selected Athletes.
Please click on the link below and fill in the form if you are going to attend the event. Please remember this is an event only for those involved in Sports Academies or who have been invited by Coach Brown, Coach JR or Mr Lukats. Please ensure you fill out the form using the students name and indicate their attendance and how many additional guests will be coming (maximum of 2 per student).
---
Secondary Glow Party 15 June, 2018
Secondary students are invited to a 'Glow Party' on 15 June at 6:00pm at the Hilton in Karon. The theme for the end of year party is 'glow' which means students have the freedom to choose wha they would like to wear as long as they glow. There will be a black light section where anything fluorescent will shine which will also provide a great photo opportunity. There is no fee for HeadStart students as the cost is included in school fees. Students are welcome to invite friends from other schools. Please note that they will be charged 1,000 Baht per person at the entrance.
Library Notice
The end of this academic year is fast approaching. Please bring back library books that you have borrowed between the 11-15 of June. There will be no student, staff & parents loans in the last two weeks of term in order for library to account for the books and prepare orders for next year.
This week Aly Y2B, Tito Y2Y and Non Y2W received certificates for being good little library helpers who come and help out everyday.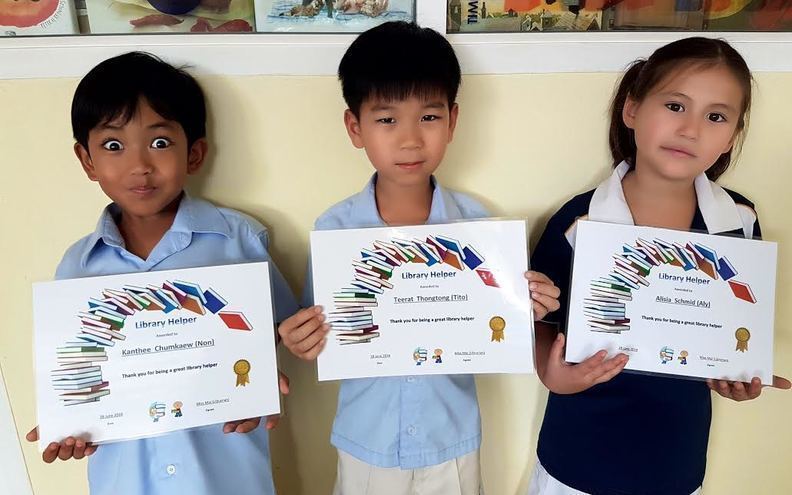 ---
Ballet Dance Recital 15 June, 2018
From Ms Fabienne Mester, Dance Academy Manager:
To celebrate the end of the year, the award celebration with the Baby Ballet, Pink Ballet, White Ballet and Blue Ballet classes will take place on Friday 15th June from 3.30pm to 5.00pm. This is a chance for you to appreciate and be proud of the effort and progress of your child.
This year the 46 ballerinas will present a little ballet recital called "Wonderland".
Like last year, the ballerinas will perform twice in the Dance Studio 1 on the 4th Floor; once at 3.30pm in front of the parents of the Baby ballet and Pink Ballet students, and a second time at 3.45pm in front of the parents of the White and Blue Ballet students, so everyone can enjoy at ease the performance of their child.
We will conclude this presentation with awards as these little ballerinas deserve recognition for their dedication and training during this past year followed by a "A Mad Tea Party" with cakes and drinks. I look forward to seeing you all for this special celebration.
---
Year 11-13 Camping Trip
Welcoming all of the Year 11-13 students to an overnight trip to the Adventure Mountain Club in Phang Nga! Team building activities, games and lots of fun in the great outdoors! Don't miss it.
Year 6 Graduation Trip to Pang Nga
Last Thursday and Friday, Year 6 embarked on their first-ever residential visit, staying overnight at the lush Adventure Mountain Club in Phang Nga to celebrate their primary school graduation. There was lots of fun and enjoyment had by all. The range of activities included: swimming, table tennis, pool, team games and artistic performances; but the highlight of the two days was zip-lining! Everybody had a go on at least one of the five zip-lines which passed over the swimming pool and ravine many feet below. All in all this was a great way for the children to mark the ending of their primary schooling.
Here are some quotes from the children:
"I liked the singing!" Theo (6B)
"The zip line was fun!" Emily (6B)
"The best field-trip I've been on in my time at HeadStart" Lucky (6Y)
"It was fun to share rooms with others to get to know them better" Dylan (6Y)
---
Thai department
Year 7 students have learning the new graded reader named "The diary of a baby elephant". Students enjoyed to write a summary of the first chapter that they have just read. By Kru Bo
Reception have been really excited about our new 'Dinosaurs' topic. They have enjoyed using the dinosaur explorer role play area and have been using lots of super storytelling language and drama. We have been practising maths and phonics skills ​through dinosaur themed games and also writing about our favourite dinosaurs. The children were amazed to see a video of a T-Rex stomping through our classroom and made some brilliant 'Wanted' posters to find the missing dinosaur! Ms Hannah Kuusik
---
Year 1 Blue making a volcanic eruption in preparation for writing a set of instructions.
---
Great video thanks Sam - what a lot of fun the children have!!
---
House News
Here are the results from last weeks House activities ~
Weigh Your Waste: The Green Dragons & The Yellow Cheetahs (3.7kg) Primary Activities: The Green Dragons (Limbo) Secondary Activities: None last week House Quiz: The Red Phoenixes.