Chaofah Weekly
6 years ago
Weekly Update 37
Happy Holidays to the HeadStart Community
An action packed and very productive school year is drawing to a close and before we depart for the summer holidays, it is fitting to take a moment or two to reflect on how far we have come and where we are headed.
As a Board we want to thank each of our dedicated, talented and energetic teachers and staff who have worked tirelessly to inspire a love of learning. Educating our children for a successful future is important and influential work and we want to recognise your daily contributions in providing the richest experience possible for our students. We look forward to another challenging, action packed year of working with you!
In 2014, we set our sights on the challenging task of improving on being a Bronze level school. After a meticulous three day inspection from the Educational Development Trust (EDT) from the UK, we are proud to announce that the school has been awarded the Silver accreditation status. In all of the eight accreditation standards, the school was rated as either good or outstanding. This accomplishment reflects the dedication, perseverance and collaboration of management and staff throughout the school and is a proud moment in our school history.
Among the momentous events of the year, HeadStart had the immense honour of welcoming HRH Princess Maha Chakri Sirindhorn to preside over the Grand Opening of our school on 17 January, 2017. Students, teachers and members of the community were given the opportunity to donate to the over 1,000 foundations that Her Royal Highness presides over. Among the many accomplishments to celebrate, we take great pride in our hard working athletes and coaches who have put in countless hours perfecting their skills on the football pitches, courts and swimming pool. Our athletes have represented HeadStart in local and international competitions resulting in countless medals and trophies won. In the Creative Arts department, our teachers and students have managed to stage world class productions such as Into the Woods, The Gruffalo and Chicago Stories. We look forward to what next year will bring with excitement!
In closing we would like to wish the Year 13 students the best of success on the next step of their educational journey. Our Year 13 graduates represent the school's success and their accomplishments illustrate the high-quality education they have received as well as their dedication to personal excellence.
---
Year 13 Graduation
Congratulations to all of our Year 13 students who have finished their studies at HeadStart and will be continuing their educational journey elsewhere. Full albums can be found on the HeadStart Facebook page https://www.facebook.com/headstartphuket/
Congratulations to all who took part in the auditions for The Addams Family!
By Ms Jackie Feliciano, performance coordinator
The HeadStart Creative and Performing Arts Department is happy to announce our Secondary production of the young@part version of the Broadway hit - The Addams Family. Over 30 eager young performers prepared a scene and a song from the production to show off their talents. The votes are in and the cast has been decided.
Performers, you will receive a rehearsal contract and an electronic copy of the script via email.You will receive a hard copy in August. Make sure to study your part and memorise your lines before then.
Very important: You must sign up for Addams Family ASPs on Friday in the new academic school year. Do not sign up for anything else, rehearsal starts at 3 pm. If you are in the cast and are in Yr 7-9, you must sign up for Music Active learning. More news to come.
Questions regarding the production should go to Jackie Feliciano: [email protected]
---
End of Year Awards for Dance Academy
By Ms Fabienne Mester, Dance Academy Manager
More than 100 students from the HeadStart Dance Academy have been awarded with certificates, awards, gifts or sweets; a rewarding way to celebrate their effort, progress, enthusiasm during this past year.
Thank you so much to all the teachers Miss Sasha, Miss Lanna, Kru Eak, Kru Dew, Kru Beer for your professionalism and passion. You really made this year very special.
Thank you to the parents for trusting us, every child of the Dance Academy has been a glitter to the programme. Have a great holiday and see you next year.
End of Year Ballet Recital
On the last week of school, Fabienne and Sasha organised our little ballerinas to perform a beautifully graceful performance for all the parents and onlookers. There were flowers, ladybugs and leaves fluttering about on stage. Everyone was impressed with how the smallest children in school, some aged 2 years old, could concentrate and follow instructions so well.
Foundation Department News
By Ms Fiona Scott, Deputy Head of Foundation
It's been a fantastic end of year for all of our students in Foundation. We have had a super week full of fun and games. As we head into our long summer break, I would just like to say a huge thank you to all our parents who have supported the Foundation department over the year and wish all of our families a very happy holiday. Our children are super, enthusiastic learners and I wish them all the very best as they move on in their school journeys, be it here or elsewhere.
Finally, I would like to wish our fabulous Foundation team a very restful holiday and all the very best of luck to our teachers moving on this year. You have all given so much time and effort to ensure our children receive the very best, every day. Take care and best wishes, we will miss you all.
---
Reception children and teachers were in awe on their last day when a clown visited and showed us magic tricks. We always believed in magic, and now we've really seen it! Ms Amy Drew
Reception Graduation
On the last day of school the Reception students had a little graduation ceremony in the sports hall to celebrate moving to Primary when they come back to school after the holidays.
Secondary Department News
---
The Stuff Of Fables
By Mr Edwin Dixon
We had grasshoppers and wolves. We had eagles and ducks. We even had even jellyfish and sea turtles! Yes, it really was the stuff of fables when twenty-four self-published Year 7 students brought their magical creations to the eyes of the Early Years children.
The Year 7s spent many weeks drafting and redrafting and publishing their very own fable stories, all in anticipation of being selected to read their stories to the younger students. There were a few nerves before their experience, but let's be honest, how could they ever be scared after seeing thirty laughing four-year-olds?
We began with live performances in the play area, before breaking off and reading to smaller groups. The Year 7 pupils in particular were overwhelmed with the adorable cuteness of the Early Years students. It was a wonderful way for them to end a very successful first year of secondary, and Miss Milner and Mr Dixon are very proud of their maturation since August 2016.
Congratulations to our World Scholars who went to Vietnam for the Global Round. More news will follow regarding the results of our World Scholars trip to Vietnam.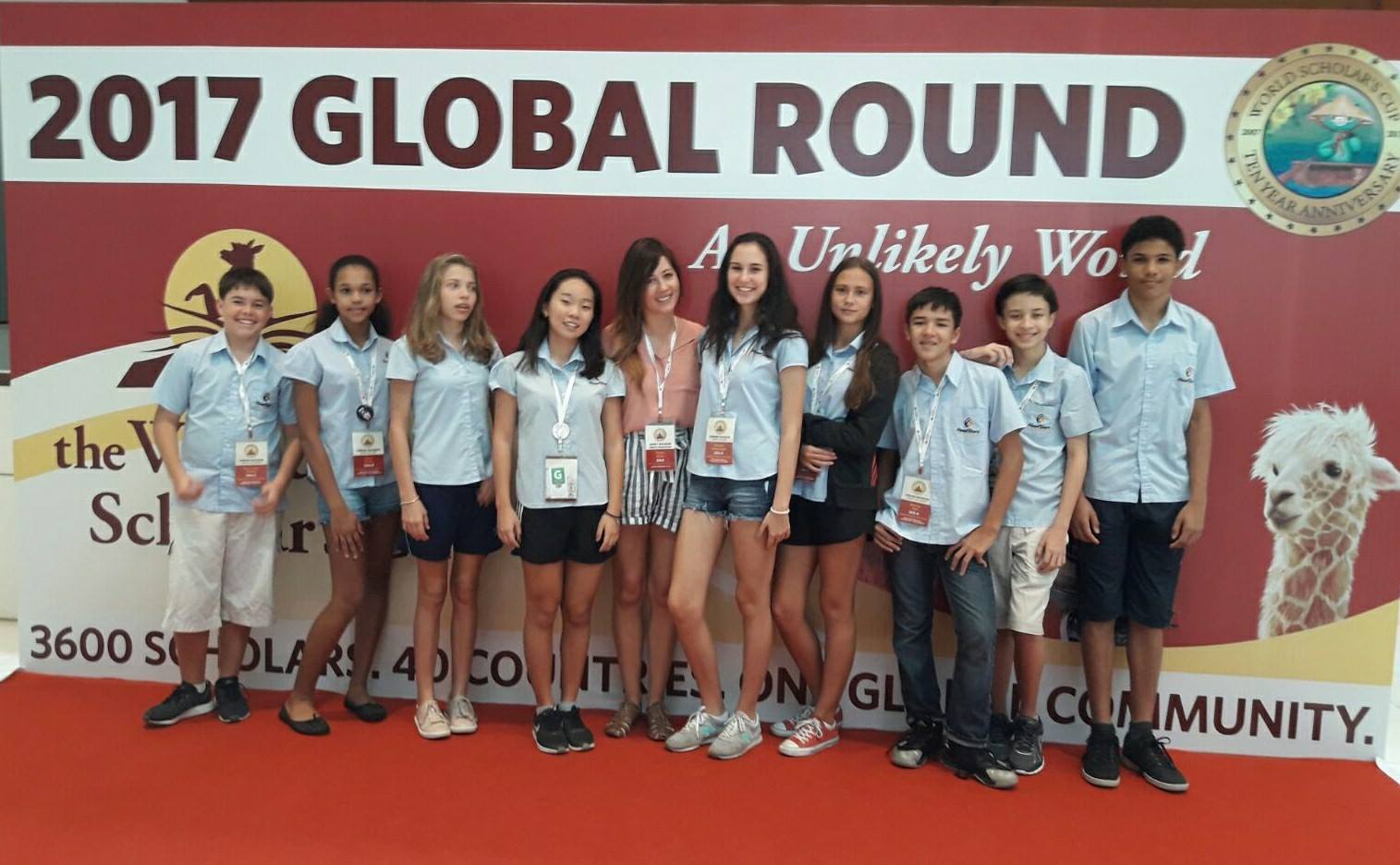 Prom 2017
On 23 June, over 160 Secondary students arrived at the Sunsuri Hotel for a great end of year party, and to celebrate the Year 13's graduating. The theme was Masquerade and the students did not fail to impress with their fantastic costumes! The 'insta-photo booth' was a great hit. Students could take photos in the booth and have them instantly printed or uploaded to social media. DJ Michael Stray (HQ and Catch Beach Club DJ) as well as MC's Mr Dixon and Mr Brown, did a great job of keeping all party goers moving and having fun with games and contests. The students surprised the teachers with some 'Teacher Joke Awards' which made the occasion a humourous time of bonding. What a great end to a fantastic academic school year!
Full photo albums can be found on the HeadStart Facebook page https://www.facebook.com/headstartphuket/