Chaofah Weekly
7 years ago
Weekly Update 9
Announcements
Meeting Invitation
We would like to invite all parents for a meeting on Tuesday the 1st of November, 2016 at 8:00-09:00 in the Secondary Hall. We will give a presentation on the Matthayom 6 equivalency regulations (Thai High school diploma) and university planning for your child's future studies. The meeting will be presented in English and Thai.
School Security
As a school we are committed to upholding a high standard of safety and security. The policies that have been designed are to keep your child safe. Please support our security team by following these procedures set out by management. Do not put pressure on the security team to bend the rules for your convenience. Remember to bring your security access card and use it! If you continually forget your card you should make an effort to register your finger so that you can use the finger scanner. Thank you for your continued support in this important aspect of school life.
Lost and Found
Thanks to the Parent Committee for their suggestion which was presented in last week's meeting you will be happy to know that we have now changed the policy for Lost and Found. Lost items will no longer be discarded every 48 hours. Parents and students will now have 1 week to collect lost items. Every week on Monday afternoon lost items that have not been collected will find their way to Baan Pitak which is a childcare center for children whose mothers are in prison. Parents are strongly advised to label every item of clothing and belongings that the students bring to school. Items that are labelled are most likely to find their way back to the owner as our helpful staff in the Nurse's office will do their best to return it to the Foundation and Primary students.
After School Sports Programme
Once again can we please remind students that if they do not have an after school sport then they should not be in the sports areas. Students must either go to the library or school canteen during this time.
Bags Left in the Fitness Suite
To avoid loss students should not bring any bags or personal belongings to the fitness rooms during ASPs. They should store all such items in their lockers.
Dress Code During Mourning Period
With the recent sad passing of His Majesty King Bhumibol Adulaydej we have had a number of questions from parents regarding school uniform and House shirts during this mourning period. With regards to the school uniform, we request that all students wear their usual uniform to school on all days of the week. Students should not wear their house shirts on a Friday until after the first 30 days of the mourning period are over. Therefore, the first House shirt day of this half-term will be Friday 18th November. P.E. uniforms should be worn as normal during P.E. lessons.
As a mark of respect to His Majesty, students may wish to wear a black ribbon on their school uniform top. This should be worn on the left side, or the left sleeve. We also invite parents to sign the book of condolences in the school atrium.
Remembrance Ceremony for His Majesty the King of Thailand
On the 25th of October, HeadStart paid tribute to the late King of Thailand with speeches made by Mr Jazon Edouard, Dr. Parimon Phaisamran, Judge Pete and our Head Boy Morgan Kieffer.
Foundation News
By Mrs. Fiona Scott
A warm welcome back to all our students and families in Foundation. It has been lovely to see a full house this week with happy children who have all settled back into school life with ease.
We have a busy few weeks ahead of us with a number of trips and events coming up. Please can you check your emails regularly to ensure you do not miss any important information from the Homeroom Teacher. Just a few reminders;
Hand Washing
Our Housekeeping team have worked hard over the mid term break ensuring the building has been thoroughly deep cleaned. To minimise the risk of illness, please can all parents encourage their child to was their hands when entering the building.
Opening times
Getting children to school on time allows our young learners to make a positive start to the day and enable them to fully participate in all lessons. Can I remind all parents that our gates are open from 7:40 am - 8:15 am.
Eco Club Support
We are looking for any parents who may be able to help and support us with getting our eco garden up and running. If you have a keen eye for gardening and have some spare time, please can you let me know.
Wishing you all a very restful weekend.
Preschoolers had lots of fun making bats for Halloween.
Children enjoyed outdoor recesses as the sun finally came out to say hello!
Primary News
By Mr Andrew Whittaker
I wish a warm welcome back to all our parents and pupils. I trust that you have all have a restful half-term and our children are all now ready to begin this second half-term all refreshed and keen to learn new things. It was very good to see the the positive news from our first half-term reports, it is pleasing to see the progress the pupils are making.
Our staff had a very good training day on Monday, with a variety of workshops for all the teachers; we had some very inspirational speakers imparting excellent teaching best practices. As professionals we are always keen to reflect on our work and continue to develop professionally.
Student of the Month
A big congratulations goes to our Students of the Month for following our Three Guiding Principles -
Self Reliance

Positive Thinking

Leaving people and places in a better state than when you found them.
The awards went to: Year 1 Yellow - Chaiyapat Ngernanek; 1 Blue - Linshan He; Year 2 Yellow - Pakin Chalengsakdi; 2 Blue - Nathee Gorton; Year 3 Yellow - Sofia Fisher; 3 Blue - Samuel Wainwright; Year 4 Yellow - Naris Borin; 4 Blue - Lapassapon Heras-Gomez; Year 5 Yellow - Ryan McKellar; 5 Blue - Danielle Lynch; Year 6 Yellow - Palita Leesakul; 6 Blue - Lilawadee Prahin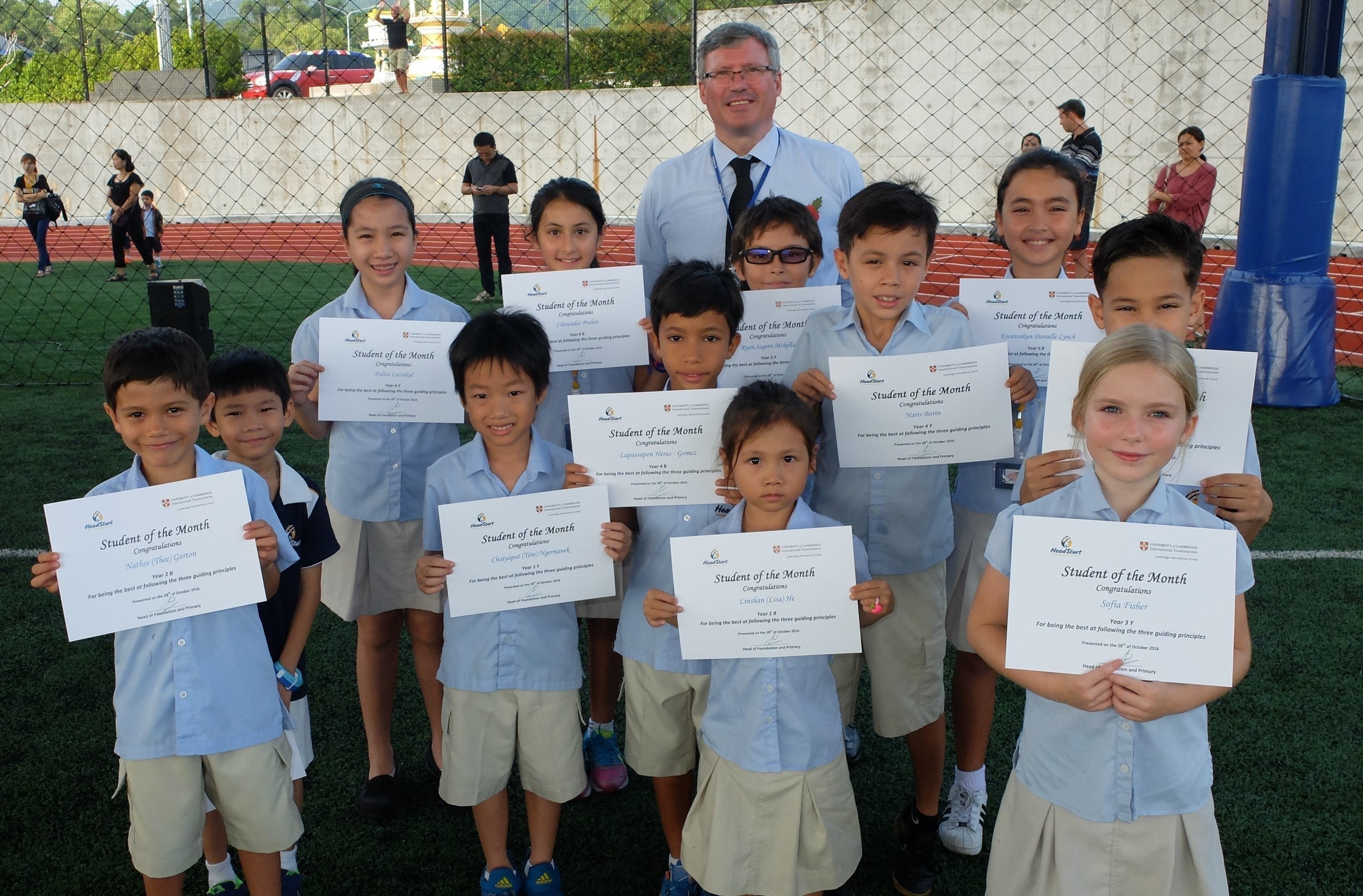 Remembrance Day
As you are all aware on Thursday the 11th of November at 11:00 am we will be commemorating along with millions of people around the world the Remembrance Day to pay respect for all those service men and women who have given their lives and fought for our freedom today.
As part of this Remembrance Tide we will be offering pupils the opportunity to make donations for a poppy which can be worn. These poppies are to be worn until our service on 11th November. If parents would also like to wear one for this period then we will have poppies in the school atrium area for you to make a donation and take one.
From next Monday, 31st October, the School Council will be organising taking the poppies and all the other items available for purchasing around the school. There are number of items that can be purchased. These include; friendship bracelets, wristbands, flexi rulers, reflective tags, pencils, erasers and hair clips. The cost for these items will be from 20 to 50 baht, although the poppies are always given for a donation. Therefore, please can you allow your children to bring in some money in order for them to purchase any of these items if they wish to.
Year 2 Bird Park Trip–By Mr Paul Williams
In Year 2 Blue this week, we had the chance to visit Phuket Bird Park. The children have been learning about Animals and Humans as part of their Science learning. The children have been learning about different animal's life cycles and their habitats. The children enjoyed their time at the Bird Park which included seeing lots of different birds, crocodiles, snakes and even a parrot that could add and subtract! The children were great ambassadors for HeadStart and they made me very proud.
Year 5 Science Fun!–By Mr Stephen Brady
Year 5 have started to learn about the Sun, Earth and Moon. They modelled the size of all three using different sized balls. They tried to model the distance between them but eventually realised that we would need a much bigger space to show how far away the Sun is.
Secondary News
By Ms Elizabeth Mason
This week I have been so impressed by the in house INSET (Teacher Training) that took place on the 24th of October. The purpose of CPD (continued professional development ) is to continue to improve our pedagogical practice for the best possible outcomes of students whilst inspiring a love of learning. Teachers that delivered sessions were organized and knowledgeable and the standard of the sessions was extremely high. Teachers that participated learnt a good amount of new information plus brushing up in their current skills. We know this to be true as teachers were asked to fill in a survey after the INSET to ensure we are getting training right and looking at what we can provide teachers to improve teaching and learning for our students in the future.
The sessions that were delivered included EAL Visual markers for primary, Teaching a learning techniques that improve students abilities to remember key facts, marking and feedback and the big hitters of teaching and learning for all teachers. Guy Claxton's building learning power which developed from Carol Dwek's 'Growth Mind Set' was a popular workshop open to all staff. Primary were also provided with a math techniques session. Overall all sessions were well received and teachers have indicated that that have begun to set the theory into practice which is great news for student outcomes.
Congratulations to the following students who have won Student of the Month for October!
English: Andrea Martinez, 11 Yellow. History: Irakli Shervashedze, 9 Blue. Maths: Jemma Burnett, 7 Yellow. Business: Sasiporn Kiatmontri (Pee), 10 Blue. I.C.T.: Natalie Kotova, 11 Blue. D.T.: Nutcha Phaisamran, 8 Yellow. Biology: Hayeon Song, 10 Yellow. Thai: Joe Miller, 9 Blue. Chemistry: Alexander Rogerson, 10 Yellow. French: Tetiana Miftakhova , 9 Yellow. Physics: Vasco De Graaf, 10 Blue. Mandarin: Yoonkyung Lee, 9 Blue. Geography: Jake Antognoli, 9 Yellow. Music: Jenny Park, 11 Yellow. Art: Jasmin Guy, 7 Yellow. P.E.: Andrea Martinez, 11 Yellow. EAL: Kalyakorn Limcharoen (Baitong), 8 Blue. Independent Learner: Elizaveta Stashevaskaia, 9 Blue
New Appointment
Congratulations to Heather Lucass who has taken up the appointment of Head of Sixth Form (Years 12-13).
A message from Ms Lucass
I feel extremely excited and privileged to be working closely with our Sixth Form cohort in my new role. I aim to ensure all students have personalised and aspirational pathways to further education. I believe it is extremely important for our students to have clear direction and goals in place to motivate them to reach their true potential.
In my role I aim to work with our students to provide tailored career advice, along with mentoring them to facilitate their academic and holistic development. Sixth Form is an exciting and crucial time for our students and it is extremely important that they leave HeadStart feeling inspired, confident and with the necessary skills to succeeded in their future. I look forward to working closely with students, parents and fellow staff to ensure we provide an enriched experience which facilitates this.
Road Safety Concerns
The Parent Committee has expressed concern regarding the safety of the students when crossing the road and waiting for their parents to pick them up. Please be mindful of your child's safety at all times, especially when it is raining as peoples vision can be distorted by the rain. Children that have a motor bike should wear a helmet at all times in line with Thai law and school policy.
Gaming at School
The Parent committee has raised the concern regarding students playing computer games at school. Until we have reached a policy conclusion we would like to encourage you as parents to help your child start the day in a healthy way with a book or some study. More news of this will follow.
Laptops
In order to reduce the heavy load students carry in their backpacks we would like to encourage students to store their laptops in their lockers during the day. Teachers will inform students know in advance if they will need a laptop in the lesson or not.
Year 113 Art–By Rebecca Weaving
Year 10 are in the process of creating illustrations and designs linked to their current unit of work entitled 'collections.' Students have been introduced to tessellation and how to layer motifs. On Saturday students have the opportunity to produce a series of lino prints exploring colourways.
Year 11 and 12 students have been working hard to secure or boost grade potential by developing their personal themes. Each attended a portfolio grade review on Monday 24th October and met Rebecca Weaving, artist in residence from the UK. The students were able to discuss their themes and extend ideas with the introduction of new techniques and processes. In lessons this week the focus has been to move thinking forwards towards a final outcome.
I am highly impressed with the student's artwork. They have really learnt how to draw and paint with confidence. The students work demonstrates high levels of skill and talent.
Tournament of Minds Trip to Australia–By Mr Marie Beanland
The Gold Coast, in Australia's Sunshine State of Queensland, is usually known for its fabulous beaches, thrilling theme parks and wonderful weather. However, last week, for several days, it became host to 700 creative-thinking, teamwork-loving, badge-swapping students, who were all there to compete in the Tournament of Minds Australasian Pacific Finals 2016.
HeadStart was represented by Esther Herbold, Timothy Hoechstetter, Nutcha Phaisamran, Aorn Phewngam and Elizaveta Stashevaskaia. They earned their place through their successful performance at the Bangkok Tournament in March. During the Bangkok round of the Tournament of Minds both teams from HeadStart qualified for the Australasian Pacific Final which is a fantastic accomplishment, but sadly, not all the students could make the trip "down under" to Oz.
Despite being one of the youngest and least experienced teams in the secondary division, the team rose to the challenge and produced an effective, creative, highly original and well-executed performance during the competition, earning some very positive comments from the judges. The round of applause for our students was noticeably louder than any other school after they had presented their challenge solution. The students' fellow competitors and many of the parents in the audience complimented our students on their presentation (proud teacher moment!).
The HeadStart team competed in the Social Sciences division of the competition, which involved developing a creative ten minute performance in response to an open-ended challenge, in just three hours, as well as facing a five-minute spontaneous challenge requiring fast divergent thinking and excellent teamwork and communication skills.
We travelled with two other teams also representing Team Thailand – a primary Engineering Maths team from St Andrews International School, Green Valley, and a secondary Language Literature team from ISB, Bangkok. All three teams performed well and were fantastic ambassadors for Thailand.
The competition venues included Griffith University and Sea World, and the Final began in style at the Australian Outback Spectacular, which provided a dazzling display of Aussie cowboy skills, an impressive appreciation of the Australian landscape, and some beautiful bush ballads and country music.
Away from the competition, the team got up close and personal with some Australian wildlife, worked together to escape from a series of mind-bending mazes, took an amphibious vehicle out for a spin, shopped for souvenirs at a local craft market - not to mention testing their nerves on the Sea World roller-coasters.
Congratulations to the whole team on their fantastic performance and a successful trip!
Thai Department News
By Kru Kik
Year 6 Learns More About the King
Our Year 6 students got a chance to learn more about the life and work of His Majesty King Bhumibol Adulyadej who dedicated his whole life to bettering the living condition of the people.
Year 5 Storytelling
The students in Year 5 are sharpening their storytelling skill by sharing their favourite books with their classmates. ​
P.E. and Sports News
By Mr Darren Beanland
Basketball
Our senior girls were in action again this week again he Local Thai / Chinese school Thai Hua. They showed a lot of improvement and are getting better game by game which is great to see. They won the game 27-17 which has now given them a real boost of confidence going into next weeks big SE Asia Senior girls Basketball tournament at BISP. Well done girls and good luck in the big tournament next week.
Swimming
Training quickly resumed this week in preparation for this weekends Thanyapura Sprint swim meet. We have 36 of our academy swimmers competing this weekend so good luck to one and all. Results next week.
NEW!! Girl's Sports Club
There will be a girls only sports club on Monday lunchtime (11:45-12:15) in the sports hall. This is open to Primary and Secondary girls to encourage girls to get more involved in sport. Ms Greenwell and Mrs Whittaker will be supervising and organising a variety of friendly and fun sports events aimed at encouraging more girls to get involved outside of lessons.
Sporting fixtures coming up
Super Sprint Swimming Meet on the 28-30 October at Thanyapura

SEA International School Senior Girls Basketball Tournament 4-5th of November at BISP

PISAC Swimming League Round 2 5th of November at Thanyapura
On November 26th Phuket Wake Park (PWP) will host a school wake boarding battle between students of all of the schools in Phuket. Come and join the fun and get involved in this awesome activity!
More info: https://www.facebook.com/events/334661733561447/