16 May 2016
Weekly
7 years ago
Weekly Update 32
Reflections
Digital Security
by James Barker Head of Business, Languages and Technology
Students now have the widest range of electronic devices available to them such as their mobile phones, laptops and tablets and these follow them round wherever they go. How secure is the information they are using on them? How can they ensure their device is secured against loss of data or theft? Here are some small pointers to help students secure their devices.
Downloadable Content - One of the main sources of data corruption is through the downloading of content from untrusted sources. Content such as mobile apps should be downloaded from a trusted source and only by the person who the device belongs to. Software such as spyware can be used to activate microphones and cameras remotely so it is important that downloaded content is from official sources.
Device Security - Changing passwords regularly is one of the easiest ways to ensure access to a device can be restricted. Passwords should be a combination of characters and numeric values that are not specific to the owner of the device or can be guessed. Many devices now come with features to find missing devices should they be lost such as the find my iPhone and Android Device Manager. This can also be enabled on laptops and tablets, allowing for exact locations of devices and the erase function should a device be lost. This can secure any personal information quickly and without the need to worry.
http://www.apple.com/icloud/find-my-iphone.html
http://www.trackmyandroidphone.com/
Data Sharing - With devices connecting to multiple networks as children go from place to place, unsecured devices are open to potential data theft. Turning off features such as Bluetooth can prevent hackers or data thieves from connecting to a device to collect data. Students should also turn off data sharing features on their device so that unauthorised devices cannot connect and access files stored on a device. A long with this, making regular backups of device data will allow if in the worst case scenario a device is lost or stolen, for the personal information to be accessed with minimal data loss. These are just some of the small steps students can take to ensure their device is secure.
Announcements
Sun Exposure Precautions
We would like to remind parents to send their children to school with a sun hat and sunscreen lotion. Many of the lessons take place under the roof of the Football pitch or the Sports Hall but there are some timetabled sessions on the top pitch where the students are exposed to the sun.
Reception to Year 1 Transition Meeting
Reception Parents are warmly invited to join us for a Reception to Year 1 transition meeting next Tuesday 24th May at 8:15 am in the Primary Hall. The meeting will allow parents to find out a little more about the Year 1 curriculum, the impact this may have on your child and what we will do as a school to support your child every step of the way. It will also be a great opportunity for you to ask any questions, meet and talk with the teachers and find out how the Year 1 environment will be organised next year.
Reception children will begin their transition into Year 1 by spending some time in the Year 1 classrooms and with the Year 1 teachers on Thursday 26th May, 8.00 - 9:40 am. These transition sessions will take place at the same time every Thursday morning over five weeks. Learning will start at 8:00 am prompt. It will be imperative to get your child into school before these times in order for them to make a comfortable start to the day and not miss any essential learning time.
Secondary Parent Meetings
As the year rapidly draws to a close we have just two more Parent Teacher Meetings. Year 8 is on Wednesday 18th May. Year 7 is on Wednesday the 1st of June. Both of them start at 3:00 pm. Children in each class are given a blank appointment card. They should go round to each teacher and get an appointment time. Once the card is filled up, the child gives it to the parent.
Year 6 Graduation Trip
As is customary at HeadStart we have arranged a 'Graduation Trip' for the Year 6 students. The aim of this trip is to celebrate finishing the Primary years and moving to Secondary. It is also a time to celebrate the hard work each student put into the Checkpoint exams. The activities we have organised, in conjunction with Borsaen Villa and Spa, will help the students to have fun together, participate in team building while enjoying each other's company. We hope that all of the students will be able to join in the fun.
Destination: Borsaen Villa and Spa, Phang Nga
Dates: 27-28th of June, 2016
Time: 7:30 am Monday to 3:00 pm Tuesday
Supervisors: Year 6 Teachers and Deputies
Cost: Under 3,000 Baht pp
A full itinerary and cost of trip has been e mailed to the Year 6 parents.
Ms Jo Ann Fundraiser
As a final effort to raise funds for Ms Jo Ann's heart operation we organised a 'Casual Clothes Day' and wore Ms Jo Ann's favourite colour, purple. During the morning break there was a Bake Sale which also generated income for this cause. We are proud to announce that through everyone's efforts we have raised a total of 291,150 Baht. Jo Ann will now have the necessary funds for her operation along with the additional costs of support, diet and care.
This is the most money we have raised for a charity in the history of HeadStart. We are very proud of our HeadStart community and how each person donated from their resources to support a needy cause. We wish to thank the children, parents and teachers for their valiant effort.
International Day 2016
A big thank you to Thailand, Korea, Australia, China, Taiwan, Japan, Colombia, Spain, Brazil, Paraguay, Israel, Kazakhstan, Russia, India, Nepal, Philippines, Switzerland, UK, France, Ireland, Germany, South Africa, USA for your contributions to our annual International Day. The event was a great time of getting to know each other and celebrate our cultural diversity.
HeadStart International Day 2016 on You Tube: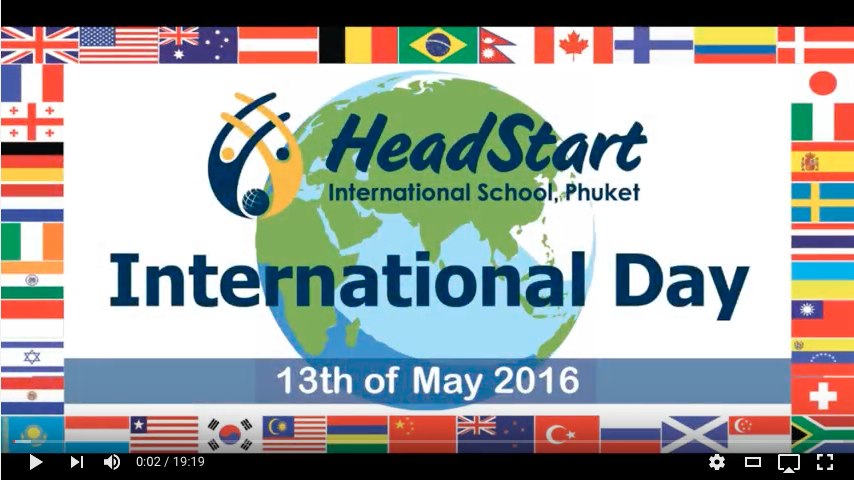 Student News
Reception Travels Around the World
Last week the Reception classes have been touring the world in preparation for International Day. We all made passports to travel to, Japan, India, France, America, Brazil, Korea, England, Germany and Australia, and we'll be continuing our world tour next week. We've found where the countries are on the map, and learnt about what they're like to visit. We also completed lots of crafts, learnt to say hello and write our name in the new languages, tasted food, and even watched martial arts demonstrations from our travels. Reception class are learning to be our newest little global citizens. By Ms Amy & Ms Danielle
Current Affairs and World News
A team of five Year 10 students volunteered and took full responsibility for informing our Secondary students on the importance of Current Affairs / World News. This involved them working as a team to:
Present their work during this week's whole school assembly

Research and select six high profile news reports

Update the World News Noticeboard

Organise a competition and quiz sheet
P.E. and Sport News
Senior Boys Finish League In Style!
By Mr Darren Beanland, Athletics Director Wow! What a finish to the league for our senior boys who thrashed the top of the table team QSI 7-3! It was an emphatic win which shows the quality and talent these boys have when they put their minds to it! A 100% better attitude and concentration level has been shown in their past two games which really does bode well for next season. Well done boys and a special congratulations goes to Brendon Edouard who won the 'Golden Boot' prize for the leagues top goal scorer with 10 goals in total!
Upcoming Matches
Our Under 13 and Under 15 Boys have been invited to play in the 'Hong Kong Schools Soccer 7's Invitational' at BISP on the 3-4th of June. Please inform the coaches if your child will not be able to play. Coaches attending: JR , Erec, Chai
Friday: Under 13 team leave school on Friday 3rd June at 8:00 am and return to school for 1:00 pm. Under 15 team leave school at 1:00 pm and return to school at 6:00 pm.
Saturday: Under 13 team leave school at 7:30 am and return at 1:30 pm Under 15 team leave school at 12:00 pm and return at 4:30 pm
Under 13 Team
Romeo Perthuis, Benjamin Lavorel, Vincent Edouard, Thomas Nuetzel, Nam Bouchara, Calvin Van Der Laan, Reece Edouard, Phakdeemak Paphonsan.
Under 15 Team
Kim Minseo, Vasco De Graff, Jonathan Lavorel, Alexandre Pravin, Dewit Prasong, Brendon Edouard, Laurent Edouard, Ivory Sarzynski, On JH
Girls Basketball Match V BISP
Our Under 15 girls team are in action next Wednesday against BISP girls. Venue: HeadStart Time: 3:30 pm tip off (finish 4:30 pm)
Team: Grace, Pee, Lisa, Natasha, Meow, Athena, Cecile, Sarah
Swim Academy Rewards
Last Saturday Mr and Mrs Pike took 20 of the swim academy students 10 pin bowling. Students who achieved an average of 4 training sessions per week were invited the bowling and Pizza Party. This was a reward for their hard work and commitment to training.
Well done to the following students: Vova, Reiley, Qistina, Bailey, Kwan, Nazar, Peter, Matvey, Armin, Roman, Shane, Innes, Kate, Tess, Anya, Emily, Eva, Eve, Ryan and Artem.